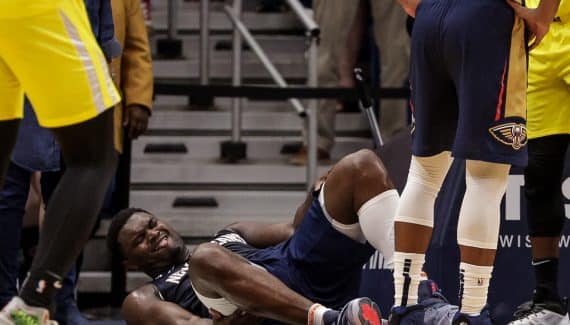 The defeat against Utah had been very heavy for New Orleans. Not content to bow, the Pelicans had seen Brandon Ingram and Zion Williamson get injured, and not play overtime.
The first had been involuntarily hit in the face after a collision with his teammate Naji Marshall, then the second had fallen on his back after a dunk attempt.
The franchise gave reassuring news from the two stars, announcing that Brandon Ingram has entered concussion protocol. As we know, the NBA does not mess with this type of injury and the winger will have to pass a battery of tests before returning to the courts. No specific timetable has been announced for his return.
As for Zion Williamson, he is uncertain for Tuesday's game against the Mavericks. The former Duke could therefore stay in the infirmary for a few more days, but his injury is slight.
"The fall of Zion could have been much worse," notes Willie Green at ESPN. "He is in pain. Herb Jones is hit in the knee and Ingram in the face. Nothing catastrophic, but we must watch all that in the coming days. »
Shots
Bounces
Players
GM
Minimum
Shots
3 points
LF
Off
Def
Early
pd
bp
Int
CT
party
Points
Brandon Ingram
2
34.2
54.5
60.0
85.0
0.0
8.0
8.0
6.0
4.5
1.5
0.5
1.5
28.0
Jonas Valanciunas
2
28.0
58.3
50.0
93.8
5.0
10.0
15.0
3.0
1.0
0.5
1.0
1.0
22.5
Cj Mccollum
2
31.3
48.5
33.3
83.3
1.5
3.5
5.0
4.0
2.0
2.0
0.0
2.5
21.0
Zion Williamson
2
30.4
43.9
0.0
62.5
2.5
4.5
7.0
3.0
2.5
2.5
0.0
1.5
20.5
Trey Murphy III
2
21.9
50.0
54.5
66.7
2.5
3.5
6.0
1.0
0.5
1.5
0.5
3.0
12.0
Herb Jones
2
30.0
40.0
33.3
100.0
2.0
1.0
3.0
2.5
0.0
0.0
1.5
3.5
6.5
jose alvarado
2
15.2
50.0
40.0
50.0
0.0
2.0
2.0
1.5
1.0
0.5
0.0
1.0
6.5
Larry Nance, Jr.
2
18.3
62.5
0.0
0.0
2.5
3.0
5.5
2.0
1.5
0.5
1.5
1.5
5.0
Naji Marshall
2
13.0
40.0
0.0
0.0
1.0
1.5
2.5
1.5
0.5
0.0
0.5
1.0
2.0
Willy Hernangomez
1
5.9
33.3
0.0
0.0
2.0
3.0
5.0
0.0
0.0
0.0
0.0
1.0
2.0
Devonte Graham
2
13.2
14.3
20.0
50.0
0.0
0.5
0.5
1.5
0.0
0.0
0.0
0.0
2.0
Dyson Daniels
1
3.2
0.0
0.0
0.0
0.0
0.0
0.0
2.0
0.0
0.0
0.0
1.0
0.0