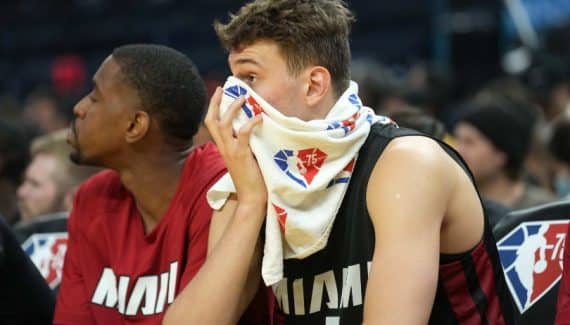 If he will not be the youngest player in the NBA this season since this "title" will go to Jalen Duren, of the Pistons, who is not yet 19 years old, Nikola Jovic is nevertheless one of the current babies of the league.
"He is incredibly unique" explained Erik Spoelstra after the victory against Brooklyn, where the Serb had been very interesting with 10 points, 5 assists 3 rebounds and 2 steals in 16 minutes. "He is so young. To put that into perspective, he's still waiting to take his last high school exam. And he's doing that over Zoom. »
A statement that inevitably attracted attention, and ESPN interviewed the player about his situation.
" I did not have the time (to pass this exam to validate his exit from high school in Serbia) because of the time difference " he explains, his classmates having done it in the spring, when he was in the United States, for the workouts before the Draft. "At that time, I clearly thought the workouts were more important. My mother wanted me to finish school. But I was there, answering him: 'All the same, mum!' »
"Last year I was a kid going to high school and after school I would come home and watch these guys on TV, or on YouTube. And now I play against them"
The 2m08 winger must now find a niche to validate his baccalaureate.
"I will probably do it soon enough. As soon as I have some time. As soon as I can get in touch with my teachers and all that, because it's quite complicated with the jet lag. »
Bachelor or not, Nikola Jovic seems in any case already ready to have an impact in Miami. During the preseason, he impressed Erik Spoelstra, in particular with his vision of the game.
"His skills are unique because of his size"assures the coach. "He just started his bodybuilding program with us for the last six weeks. So we won't see the benefits until next summer. But he has the ability to dribble, to shoot, to go up the field with the ball. He is a very good passer. This is probably his greatest quality at this stage, and he is developing everything else. »
Within a universe that he observed on his sofa only a few months ago.
" It's incredible. Last year, I was a kid going to high school and after school I would come home and watch these guys on TV, or on YouTube. And now I play against them. Yes, it's different. »