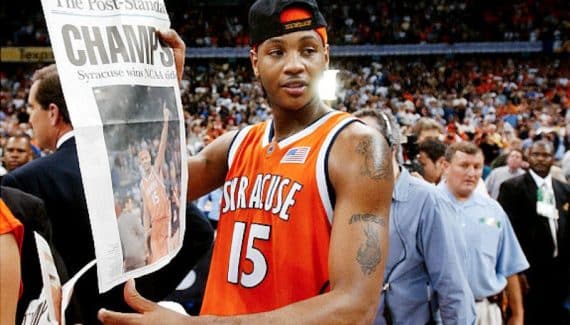 At the initiative of journalists from Syracuse.comon the occasion of the 20th anniversary of the title of Syracusea documentary entitled "Will to Win" will tell the story of Jim Boeheim and his players to the title, the first of the legendary coach of the freshly retired Orange, after two failures in 1987 and 1996.
Underdogs on paper, with a #3 seed in the East region, the Orange had exceeded expectations, despite the youth of the workforce (five "freshmen" and three "sophomores"), and had risen to " Final Four", where they had finished the job wonderfully: against Texas (#1 in the South region) in the semi-finals, then against Kansas (#2 in the West region) in the final.
A "Final Four" at the end of which carmelo anthony, who became the 3rd choice of the Draft a few weeks later, was voted "Most Oustanding Player" after two games, with 33 points, 14 rebounds and 3 steals in the semi-finals then 20 points, 10 rebounds and 7 assists in the final. The ultimate consecration that closed a great "freshman" season from a young "Melo" (22.2 points and 10 rebounds on average over the season).
Release date: next March 29 for the preview, scheduled for the Landmark Theater in downtown Syracuse, then in the following days for a public broadcast on the web.
The trailer: