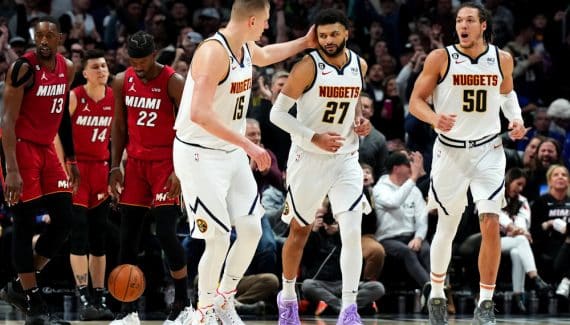 While many were already dreaming of yet another Celtics – Lakers Finals, we will be entitled to an unprecedented NBA final between Nikola Jokic's Nuggets and Jimmy Butler's Heat. On the one hand, the best in the Western Conference this season, resting for a week after having "swept" the Lakers and winning 12 out of 15 games in these playoffs.
On the other, a Heat which became the first team to qualify for the NBA Finals after coming out of the "play-in" last night, but also the second team in history to reach the Finals with the top label. serial number 8.
In the United States, all matches are broadcast on ABC, the national network channel. In France, all matches are broadcast live on BeIN Sports. All matches are also available live on the NBA League Pass.
Thursday, June 1
Denver–Miami | Game 1 | 2h30 (night from Thursday to Friday)
Sunday June 4
Denver–Miami | Game 2 | 2h30 (in the night from Sunday to Monday)
Wednesday, June 7
Miami–Denver | Game 3 | 2h30 (in the night from Wednesday to Thursday)
Friday, June 9
Miami–Denver | Game 4 | 2h30 (in the night from Friday to Saturday
Monday, June 12
Denver–Miami | Game 5 | 2h30* (in the night from Monday to Tuesday)
Thursday June 15
Miami–Denver | Game 6 | 2h30* (night from Thursday to Friday)
Sunday June 18
Denver–Miami | Game 7 | 2h30* (in the night from Sunday to Monday)
*if necessary