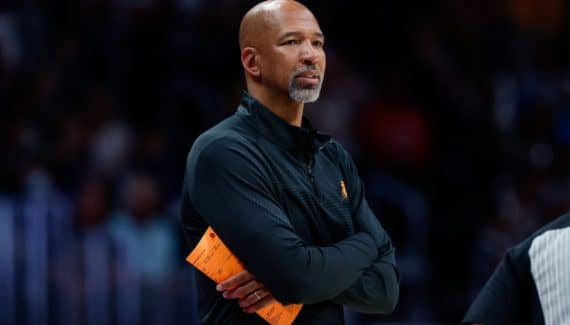 The next few weeks could be lively in Arizona. Like a year ago phoenix is indeed out of the playoffs by the back door, suffering a spanking at home, no longer against Dallas but against Denver.
Inevitably, these eliminations are a stain and, even if it was necessary to manage over time the integration of Kevin Durant, with a weakened bench, in addition to juggling the physical glitches of Chris Paul and Deandre Ayton, the Suns could make adjustments to be able to seriously aim for the title next season. Among them, there are the departures of "CP3" and Deandre Ayton, even that of Monty Williams.
Present on the bench of Phoenix for four years now (for almost 63% of victories), the Coach of the Year 2022 is at the base of the renewal of the team, allowing him to find the playoffs – and downright the Finals – in 2021. Except that, for two years, Devin Booker's teammates have stalled in the spring.
" It's my responsibility for not having prepared us to play at the highest level, in the most important game of the season. It doesn't fit who we are and what we've been "said the Suns coach, after Game 6 against the Nuggets.
Business is business…
Hence the appearance of certain rumors reporting a possible dismissal of Monty Williams, yet extended last July and already mentioned as an option on the side of Milwaukee, to take over from Mike Budenholzer. But the main interested party hardly cares about these hallway noises.
" It's not something that worries me, it's part of the business », did he deliver regarding a possible dismissal, during the "exit interviews" of his franchise. " When you look at these very good coaches who lost their positions shortly after winning a title, it's just something particular to our ecosystem. I always told myself that I should do my job and not worry about it, but if you analyze and observe what is happening around you, you know that it can affect anyone. »
In his coaching career, Monty Williams has already been fired once, in 2015, when he was at the head of the Pelicans. And with the return of Mike Budenholzer to Milwaukee, he knows that no coach is immune.
" From my point of view, you have to do your best and, if things don't turn out the way you want, you can sleep and rest easy, because you will have done everything you can. But I'm not closed-minded, a lot of these [entraîneurs] who lost their jobs are good friends of mine.I know the kind of people and coaches they are, it's just part of the business. »
Shots
Bounces
Players
GM
Minimum
Shots
3 points
LF
Off
Def
Early
pd
bp
Int
CT
party
Points
Devin Booker
53
34.6
49.4
35.1
85.5
0.9
3.7
4.5
5.5
2.7
1.0
0.3
3.0
27.8
Kevin Durant
8
33.7
57.0
53.7
83.3
0.4
6.0
6.4
3.5
2.5
0.3
1.3
0.9
26.0
Deandre Ayton
67
30.4
58.9
29.2
76.0
2.6
7.4
10.0
1.7
1.8
0.6
0.8
2.8
18.0
Mikal Bridges
56
36.4
46.3
38.7
89.7
1.0
3.3
4.3
3.6
1.4
1.2
0.8
2.1
17.2
Cameron Johnson
17
25.3
47.4
45.5
81.8
0.8
3.0
3.8
1.5
0.6
0.9
0.4
1.7
13.9
Chris Paul
59
32.0
44.0
37.5
83.1
0.5
3.8
4.3
8.9
1.9
1.5
0.4
2.1
13.9
Cameron Payne
48
20.2
41.5
36.8
76.6
0.3
2.0
2.2
4.5
1.7
0.7
0.2
1.8
10.3
Terrence Ross
21
18.4
42.8
34.7
85.7
0.6
2.7
3.3
2.0
0.3
0.5
0.1
2.1
9.0
Landry Shamet
40
20.2
37.7
37.7
88.2
0.3
1.4
1.7
2.3
0.9
0.7
0.1
1.5
8.7
Damion Lee
74
20.4
44.2
44.5
90.4
0.5
2.5
3.0
1.3
1.1
0.4
0.1
1.6
8.2
Duane Washington, Jr.
31
12.7
36.7
36.0
66.7
0.1
1.1
1.2
2.0
1.1
0.2
0.1
0.7
7.9
Torrey Craig
79
24.7
45.6
39.5
71.1
1.8
3.6
5.4
1.5
0.9
0.6
0.8
2.3
7.4
Josh Okogie
72
18.8
39.1
33.5
72.4
1.5
2.0
3.5
1.5
0.9
0.8
0.5
1.6
7.3
Jock Landale
69
14.2
52.8
25.0
75.2
1.7
2.3
4.1
1.0
0.9
0.2
0.4
1.8
6.6
Saben Lee
23
15.8
39.3
37.9
73.7
0.6
1.4
2.0
2.8
0.9
0.8
0.0
1.3
6.3
Dario Saric
37
14.4
42.7
39.1
81.8
1.1
2.8
3.8
1.5
1.0
0.4
0.1
1.9
5.8
Bismack Biyombo
61
14.3
57.8
0.0
35.7
1.5
2.8
4.3
0.9
0.8
0.3
1.4
1.9
4.3
Tj Warren
16
12.3
42.9
31.6
50.0
0.8
2.3
3.1
0.7
0.2
0.4
0.3
1.3
4.2
Ish Wainright
60
15.3
37.0
32.9
83.9
0.8
1.6
2.3
0.9
0.4
0.6
0.4
2.0
4.2
Darius Bazley
7
8.7
48.0
25.0
40.0
0.7
1.6
2.3
0.9
0.7
0.4
0.7
1.3
4.0