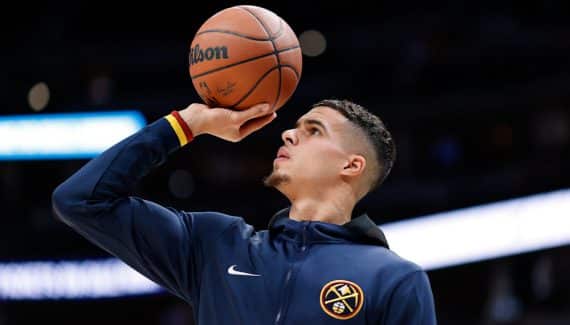 During the crazy epic until NBA Finals of the Nuggets, Michael Porter Jr. was able to count on the support and advice of those close to him, whether family, friends, but also current or former NBA players, such as the leader of the Hawks Trae Young.
Invited to slip a few names of people around him who continue to help him behind the scenes in the preparation for his first NBA final, MPJ also quoted Brandon Roya former Blazers star who coached him in Nathan Hale High School before he went to college in Missouri.
"With Trae, we talked a lot. He's jealous because I'm in the NBA Finals and he only made the Eastern Conference Finals. We talked about it in Los Angeles, where he came for our last game. And then Brandon Roy, my high school coach, who called me the other day and criticized everything I did. I think he's jealous, too, because he never made it to the Finals.", did he joke. "B-Roy still gives me a lot of advice. He was my coach in high school, so he sees how my game has evolved since my injuries and stuff. He gives me great advice as a mentor".
"Seattle holds a big place in my heart"
The destinies of Brandon Roy and Michael Porter Jr therefore crossed at Nathan Hale High School, located in Seattle, during the 2016/17 season. A memorable season for the two who had contributed to the perfect 29-0 achieved in the regular season. The first had been named coach of the year and the second caught the eye of NBA scouts.
"Seattle definitely had a big impact on me. After growing up in Missouri, moving to Seattle, being around all these pros and being coached by Brandon Roy, that's when I really pushed my game at the top level »he remembered. "He helped me improve every day and become the best player in the country in the best team in the country. It was his first year as a coach, which is pretty crazy. I believe he's won four state titles since I left Seattle. Even today, he is a good friend. He loves basketball. He's really a good guy. Seattle holds a huge place in my heart, and it was truly an awesome time in my life."
Michael Porter, Jr.
Percentage
Bounces
Season
Crew
GM
Minimum
Shots
3 points
LF
Off
Def
Early
pd
party
Int
bp
CT
Points
2019-20
DEN
55
16
50.9
42.2
83.3
1.2
3.5
4.7
0.8
1.8
0.5
0.9
0.5
9.3
2020-21
DEN
61
31
54.2
44.5
79.1
1.5
5.8
7.3
1.2
2.1
0.7
1.3
0.9
19.1
2021-22
DEN
9
30
35.9
20.8
55.6
1.0
5.6
6.6
1.9
1.8
1.1
1.3
0.2
9.9
2022-23
DEN
62
29
48.7
41.4
80.0
1.0
4.5
5.5
1.1
1.9
0.6
1.1
0.5
17.4
Total
187
26
50.6
41.7
79.7
1.2
4.7
5.9
1.1
1.9
0.6
1.1
0.6
15.2
How to read the stats? MJ = matches played; Min = Minutes; Shots = Shots made / Shots attempted; 3pts = 3-points / 3-points attempted; LF = free throws made / free throws attempted; Off = offensive rebound; Def= defensive rebound; Tot = Total bounces; Pd = assists; Fte: Personal fouls; Int = Intercepts; Bp = Lost bullets; Ct: Counters; Points = Points.