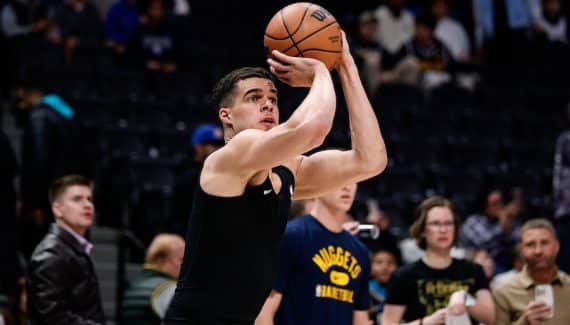 " Yeah I'm playing tomorrow (today). » Michael Porter Jr. confirms himself his presence for the Blazers' reception the next night. The winger hasn't played for exactly a month, and one last game against the Pistons, due to a bruised heel.
This pain in the left foot had first appeared two days before, against the Mavericks. " I felt it, but it was playable. Then I played the Detroit game, and after that it got worse. I had to let it heal for a while », Develops the team's third leading scorer with 16 points per game.
For his part, Mike Malone is more cautious about this expected return. The coach said he was waiting to see this Friday's shootaround before a final decision. Even if it means postponing his return to Sunday, with the reception of the Suns, or even the double confrontation on the floor of the Kings, Tuesday and Wednesday.
When it comes to playing time, the winger doesn't expect to face any restrictions. " Although we had guys with minute restrictions, we often had them play off the bench. It's hard to be restricted by being a holder ", confirms Mike Malone, who has not brought the 24-year-old player off his bench since February 2021, and who also considers that he realizes, " from afar ", his best defensive season in career.
In his absence, the Nuggets won 9 out of 13 games, with a gala Nikola Jokic (28 points, 13 rebounds and 9 assists). And Denver (19 wins – 11 losses) grabbed a hotly contested first place in the West.
Michael Porter, Jr.
Percentage
Bounces
Season
Team
GM
Minimum
Shots
3 points
LF
Off
Def
Early
pd
party
Int
bp
CT
Points
2019-20
DEN
55
16
50.9
42.2
83.3
1.2
3.5
4.7
0.8
1.8
0.5
0.9
0.5
9.3
2020-21
DEN
61
31
54.2
44.5
79.1
1.5
5.8
7.3
1.2
2.1
0.7
1.3
0.9
19.1
2021-22
DEN
9
30
35.9
20.8
55.6
1.0
5.6
6.6
1.9
1.8
1.1
1.3
0.2
9.9
2022-23
DEN
16
29
46.6
42.7
80.0
1.2
4.8
6.0
1.3
2.6
0.6
1.1
0.4
16.4
Total
141
25
51.1
42.1
79.6
1.3
4.8
6.1
1.1
2.0
0.6
1.1
0.6
14.4