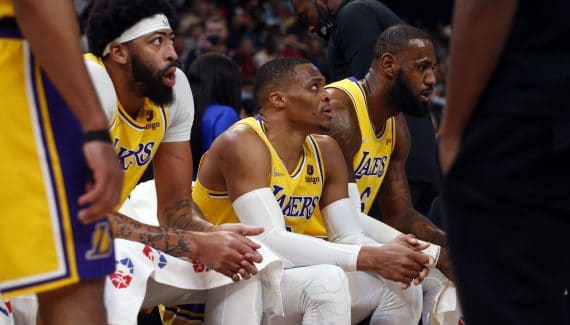 Unity messages are still relevant on the Lakers side. On the front at least. While Russell Westbrook has just been booed by his own public and relegated to the bench against the Knicks, LeBron James reaffirms his support for his teammate, his " brother ", and puts forward a collective response.
" In the end, we are all in the same boat. We are all together in the trench. There isn't a single guy. There's not one guy you can blame over another. Not one guy getting the accolades over another. When we lose, we all lose. When we win, we all win. It really is that simple", does he list.
For a month, the Lakers have therefore continued to lose "together". The four-game winning streak of early 2022 seems a long way off. Since then, the Californians have won only 5 of their last 14 outings. With a negative balance (26 wins – 28 losses), they only occupy 9th place in their conference.
Rather than pointing the finger at his leader, whose all statistical indicators are down from his past season with the Wizards, LeBron James recalls that the team has not been spared by the passages to the infirmary. Anthony Davis and himself have respectively missed 21 and 17 games, where Kendrick Nunn, for example, has not yet set foot on the Lakers floor.
LeBron James wants to 'explore the options'
" I have never known a season where injuries play such a role, but also Covid protocols, false or positive, or the coach is absent for several games. So it's a challenge, a strange season, different for each of us. And not just for the Lakers, but for a lot of NBA teams. "Notes the" King ".
" Impossible "so for the latter" devalue" the true potential of this team. Which leaves franchise executives with a headache just days before the transfer deadline.
Have the decision-makers seen enough to readjust the workforce, if necessary by writing off Russell Westbrook? Or, on the contrary, should we bet on the continuity of a group, almost never complete, with the hope of no longer being affected by physical glitches until the end of the season?
" We must assess what we had available, and not what we did not have. We evaluate all the work our guys have done so far Vaguely replies Frank Vogel. " I'm not a big fan of fantasy so this is the band we have as we approach the trade deadline and we'll be ready to take on the challenges of this season."completes LeBron James, in relation to the GM, Rob Pelinka. "I've said it every year: if there's an opportunity to improve, then we explore those options. This has always been my position."
Shots
Bounces
Players
GM
Minimum
Shots
3 points
LF
Off
Def
Early
pd
bp
Int
CT
party
Points
lebron james
37
36.7
52.3
35.1
75.7
1.1
6.7
7.8
6.4
3.1
1.6
1.1
2.2
29.1
Anthony Davis
33
35.4
52.9
17.5
72.6
2.9
7.2
10.2
2.8
2.2
1.3
2.2
2.6
23.7
Russell Westbrook
54
34.7
43.7
30.0
66.8
1.4
6.4
7.8
7.7
4.1
1.1
0.3
3.0
18.4
carmelo anthony
50
26.5
43.7
39.2
82.4
0.8
3.3
4.2
1.0
0.9
0.7
0.8
2.2
13.4
Malik Monk
48
27.0
47.3
40.9
78.9
0.4
2.8
3.3
2.5
1.3
0.7
0.4
1.6
13.0
Talen Horton-tucker
38
25.7
40.6
25.0
79.2
0.6
2.6
3.2
2.5
1.4
0.9
0.4
2.4
9.5
isaiah thomas
4
25.2
30.8
22.7
72.7
0.2
1.8
2.0
1.5
1.2
0.0
0.5
3.0
9.2
Sekou Doumbouya
2
8.2
62.5
50.0
75.0
1.0
2.0
3.0
0.0
1.0
1.5
1.0
0.5
7.0
Avery Bradley
46
23.6
41.4
38.0
85.7
0.5
1.8
2.3
0.8
0.6
1.0
0.2
2.0
6.8
Wayne Ellington
33
19.4
39.5
38.8
80.0
0.2
1.5
1.7
0.7
0.5
0.5
0.1
1.0
6.2
Stanley Johnson
20
22.1
47.4
31.8
72.7
0.6
2.5
3.0
1.3
0.6
0.8
0.5
2.9
6.0
Austin Reaves
35
21.3
46.3
31.0
85.7
0.5
2.1
2.7
1.3
0.6
0.3
0.2
1.5
5.8
Dwight Howard
41
14.5
62.1
66.7
61.2
1.9
3.5
5.4
0.5
0.8
0.7
0.6
2.0
5.2
Deandre Jordan
31
12.9
67.0
0.0
48.0
1.6
3.9
5.5
0.4
0.6
0.3
0.8
1.6
4.2
Trevor Ariza
16
19.4
33.3
32.0
70.0
0.3
3.1
3.4
1.2
0.5
0.4
0.2
0.8
3.9
Kent Bazemore
31
14.7
32.8
35.4
76.5
0.3
1.5
1.7
0.9
0.3
0.6
0.2
1.8
3.7
Rajon Rondo
18
16.1
32.4
26.7
50.0
0.6
2.2
2.7
3.7
1.9
0.7
0.3
1.4
3.1
mason jones
2
4.4
25.0
0.0
50.0
0.5
0.5
1.0
0.0
0.5
0.5
0.0
0.5
2.5
jemerrio jones
2
7.4
66.7
0.0
0.0
1.0
0.5
1.5
0.0
0.0
0.5
0.0
1.0
2.0
Darren Collison
3
12.4
28.6
0.0
0.0
0.0
1.3
1.3
0.7
0.3
0.3
0.0
1.7
1.3
Chaundee Brown
2
10.3
14.3
0.0
0.0
0.0
1.0
1.0
0.0
0.5
0.0
0.0
0.0
1.0
Jay Huff
4
5.1
0.0
0.0
0.0
0.2
0.8
1.0
0.2
0.2
0.2
0.2
0.2
0.0