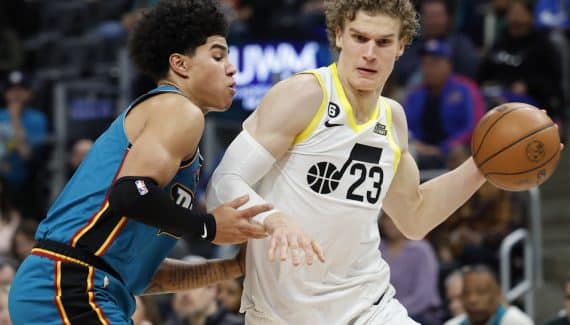 Voting for the All-Star Game has been open since Tuesday and Lauri Markkanen celebrated that with a new performance of choice in Detroit with 38 points at 9/13 from 3-pointers and a clear victory (126-111).
It's already the 7th time that the Finn has scored 30 points or more, more than the previous three years combined! Suffice to say that he has never been so close to a first selection at the All-Star Game. The next one will also take place at his home, on the Jazz floor, next February.
"It's a chance to just be included in the debate"he said about it. "I work on my game every day, I work with my teammates every day, so hopefully I could be there. It motivates me every day to do my best every night."
A candidate for the Most Improved Player trophy
While blazing 3-pointers against Detroit, Lauri Markkanen is impressing at the Jazz this season with his versatility on offense, which gives him the opportunity to get the better of his opponents in a variety of ways.
"His teammates know how strong he is and how strong he can be. They probably highlight it more than me. When you look at it, you don't imagine that it is so mobile and so agile. For example, his support is not just straight line speed. It is also his game of support in tight spaces and his ability to change direction," noted Will Hardywho never ceases to be amazed by his "go-to-guy".
In terms of statistics too, the interior impresses with nearly eight more points per game, compared to last season. Already the author of a strong start to the season, his stats for the month of December confirm that he would make a fine "Most Improved Player" with an average of 25 points at 56.4% success from 3-pointers in 8 attempts and 7.1 rebounds in 34 minutes. And the worst thing for his opponents is that he still sees himself improving by then!
"I think I always find something to work on. We always find things to improve. It might be a little harder at times, but it pushes you to try to reach the next level. It's really motivating for me." he added.
Lauri Markkanen
Percentage
Bounces
Season
Team
GM
Minimum
Shots
3 points
LF
Off
Def
Early
pd
party
Int
bp
CT
Points
2017-18
CHI
68
30
43.4
36.2
84.3
1.2
6.3
7.5
1.2
1.5
0.6
1.2
0.6
15.2
2018-19
CHI
52
32
43.0
36.1
87.2
1.4
7.6
9.0
1.4
2.4
0.7
1.6
0.6
18.7
2019-20
CHI
50
30
42.5
34.4
82.4
1.2
5.1
6.3
1.5
1.9
0.8
1.6
0.5
14.7
2020-21
CHI
51
26
48.0
40.2
82.6
0.7
4.6
5.3
0.9
1.5
0.5
1.0
0.3
13.6
2021-22
KEY
61
31
44.5
35.8
86.8
1.0
4.7
5.7
1.3
2.1
0.7
0.9
0.5
14.8
2022-23
UTH
31
34
53.4
43.8
83.0
2.0
6.2
8.2
2.1
2.2
0.6
2.0
0.6
22.8
Total
313
30
45.2
37.2
84.7
1.2
5.7
6.9
1.3
1.9
0.7
1.3
0.5
16.1