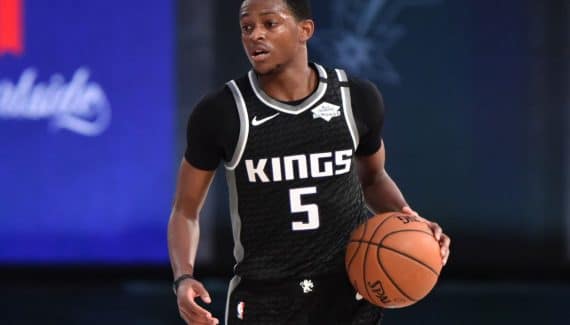 Whether for Ben Simmons or for Domantas Sabonis, the name of De'Aaron Fox regularly comes up in transfer rumors. And the information is contradictory: for a time the Kings did not want to part with it, then they would then have opened the door…
Ultimately, The Athletic ensures that the franchise made the decision to keep him. Our colleagues explain that the leaders answer the same thing to the interested teams: De'Aaron Fox and Tyrese Haliburton will not move.
The Kings want to build around these two and have even warned the playmaker's agent, to confirm this desire to build over the long term.
The rumor around Domantas Sabonis thus seems to be buried, indicates The Athletic and this will reassure De'Aaron Fox, who had admitted not being insensitive to the noises of the corridor concerning him.
De'Aaron Fox
Percentage
Bounces
Season
Team
GM
Minimum
Shots
3 points
LF
Off
Def
Early
pd
party
Int
bp
CT
Points
2017-18
BAG
73
28
41.2
30.7
72.3
0.5
2.3
2.8
4.4
2.2
1.0
2.4
0.3
11.6
2018-19
BAG
81
31
45.8
37.1
72.7
0.5
3.2
3.8
7.3
2.5
1.6
2.8
0.6
17.3
2019-20
BAG
51
32
48.0
29.2
70.5
0.7
3.2
3.8
6.8
2.8
1.5
3.1
0.5
21.1
2020-21
BAG
58
35
47.7
32.2
71.9
0.6
2.9
3.5
7.2
2.9
1.5
3.0
0.5
25.2
2021-22
BAG
42
34
45.7
25.3
74.0
0.5
3.2
3.7
5.1
2.8
1.2
2.8
0.4
20.9
Total
305
32
45.8
31.5
72.2
0.5
3.0
3.5
6.2
2.6
1.4
2.8
0.4
18.6