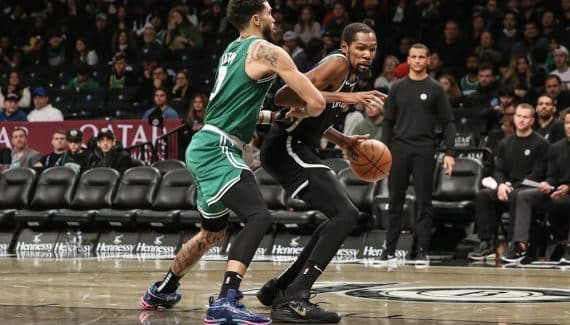 For bettors, the Celtics are still the favorites for the title. The workforce has hardly changed and it has even been reinforced with the arrivals of Malcolm Brogdon and Danilo Gallinari. The Ime Udoka episode left no traces, and despite the absences of Robert Williams and Gallinari, the team took the lead in the Eastern Conference.
The "Jay's" play their best basketball in their career, and even when Marcus Smart is not there, the team is able to win in Brooklyn, which nevertheless remained on four straight wins. What to impress Kevin Durantwhose name had circulated this summer to join them…
"It's such a rich team, with players who have been together (for a long time), with great continuity, and at home, the player who follows raises his level of play" emphasizes Kevin Durant. "Robert Williams hasn't been there all year and they're 19-5. Marcus Smart isn't around and they still have Derrick White and Malcolm Brogdon who can do pretty much the same things as [Smart]. They have a rich team".
"Rich" but which could be even richer with the upcoming return of Robert Williams, and possibly a return of Danilo Gallinari for the end of the season.
"They were excellent last year and they are still the case this year", continues Kevin Durant. "They have more experience, with one more year. Reaching the Finals clearly helps you collectively, and it bonds you. [Tatum] one year older, [Brown] a year older. Their players gain experience every day, and their results prove it. »
For KD, you have to be at your best to compete against the Celtics, who have a few major qualities: "It's a big team, which shoots well and has a good size. So you have to match them in these areas to be competitive. We don't have a big margin of error (against them). »
Shots
Bounces
Players
GM
Minimum
Shots
3 points
LF
Off
Def
Early
pd
bp
Int
CT
party
Points
Jayson Tatum
22
36.9
47.9
35.4
86.6
1.0
7.0
8.0
4.4
2.4
0.9
1.1
2.2
30.8
Jaylen Brown
21
35.5
51.0
34.5
83.6
1.0
6.0
6.9
3.5
3.4
1.0
0.3
2.9
26.6
Malcolm Brogdon
19
22.8
49.2
49.3
84.9
0.9
3.0
3.9
3.5
1.9
0.5
0.2
1.4
13.9
Marcus Smart
21
32.9
44.9
34.6
80.5
0.4
2.7
3.1
7.7
2.2
1.1
0.3
3.0
11.8
Derrick White
23
26.3
48.6
44.9
88.6
0.5
2.5
3.0
3.3
0.9
0.9
0.7
2.6
11.2
Al Horford
19
31.5
54.9
47.6
62.5
1.1
5.2
6.3
2.8
0.8
0.4
0.9
1.9
10.6
Grant Williams
22
28.5
53.4
45.8
85.7
0.8
3.8
4.6
2.0
0.8
0.6
0.5
2.8
9.2
Sam Hauser
23
16.7
51.3
47.5
77.8
0.3
2.1
2.4
0.7
0.3
0.3
0.3
1.4
7.4
Payton Pritchard
13
11.9
41.7
40.0
62.5
0.6
0.9
1.5
1.2
0.8
0.4
0.1
0.4
5.3
Luke Kornet
18
13.5
68.1
40.0
93.3
1.2
2.4
3.6
0.8
0.4
0.2
1.0
1.7
4.4
Blake Griffin
8
12.6
50.0
40.0
83.3
1.0
2.0
3.0
0.8
0.6
0.3
0.0
1.9
4.1
Mfiondu Kabengele
1
8.3
50.0
0.0
0.0
3.0
1.0
4.0
0.0
0.0
0.0
0.0
1.0
2.0
noah vonleh
15
9.4
50.0
33.3
100.0
1.1
1.5
2.6
0.3
0.7
0.1
0.4
1.9
1.7
justin jackson
8
5.6
20.0
22.2
0.0
0.0
0.6
0.6
0.3
0.0
0.3
0.1
0.3
0.8
Jd Davison
3
2.8
25.0
0.0
0.0
0.0
0.3
0.3
0.3
0.3
0.3
0.0
0.0
0.7