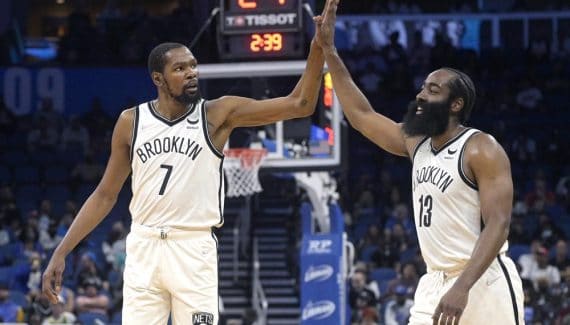 After speaking about the new face of the Nets, Kevin Durant returned to the departure of James Harden. Happy to find the 2018 MVP in Brooklyn in January 2021, after their adventure in Oklahoma City at the start of their career, the winger saw "The Beard" leave after only one year of common adventure.
Did the 2014 MVP talk to his now ex-teammate to find out more about his motivations?
"James Harden owes no explanation to anyone"assures KD at ESPN. "He is independent, he makes his own decisions for his career. He doesn't have an explanation to give and I didn't try to get one. I'm just glad it's all over and I can move on. "
Currently injured, and therefore not always with the group, Kevin Durant was not aware of the discomfort of James Harden, nor of the possible tensions between the latter and Kyrie Irving. He learned all this in the press a few days before the transfer with Philadelphia.
"I think when someone announces they're unhappy, they've already taken a few steps. It's already a bit too late."

If he traded with James Harden, the four-time leading scorer in the league obviously did not try to change his mind.
"I was not in the group, so I did not see the atmosphere. Defeats wear you out and with Kyrie Irving not always there… But I didn't know. I think that when someone announces that they are unhappy, they have already taken some steps. So whatever I say or do – I'm not saying I didn't do anything, it's a theory – it's not going to change his mood. It's already a bit too late. I'm sure disgruntled people like that have already made up their minds. I hadn't had any discussions with him before that. I didn't try to convince him. As a friend, I just have to accept his decision. "
Doesn't he all the same, like everyone else, have enormous regrets for not having seen this "Big Three" evolve over the long term, because too often weighed down by injuries, then by the vaccination situation? by Kyrie Irving?
"I stick to what happened. I think we played basketball well when we were on the field. So I go with that. Outside noise, what people think of us and company, I leave to them. When we played together, we played well. It was working really well. "
Kevin Durant
Percentage
Bounces
Season
Team
GM
Minimum
Shots
3 points
LF
Off
Def
Early
pd
party
Int
bp
CT
Points
2007-08
SEA
80
35
43.0
28.8
87.3
0.9
3.5
4.4
2.4
1.5
1.0
2.9
0.9
20.3
2008-09
OKAY
74
39
47.6
42.2
86.3
1.0
5.5
6.5
2.8
1.8
1.3
3.0
0.7
25.3
2009-10
OKAY
82
40
47.6
36.5
90.0
1.3
6.3
7.6
2.8
2.1
1.4
3.3
1.0
30.2
2010-11
OKAY
78
39
46.2
35.0
88.0
0.7
6.1
6.8
2.7
2.0
1.1
2.8
1.0
27.7
2011-12
OKAY
66
39
49.6
38.7
86.0
0.6
7.4
8.0
3.5
2.0
1.3
3.8
1.2
28.0
2012-13
OKAY
81
39
51.0
41.6
90.5
0.6
7.3
7.9
4.6
1.8
1.4
3.5
1.3
28.2
2013-14

★

OKAY
81
39
50.3
39.1
87.3
0.7
6.7
7.4
5.5
2.2
1.3
3.5
0.7
32.0
2014-15
OKAY
27
34
51.0
40.3
85.4
0.6
6.0
6.6
4.1
1.5
0.9
2.7
0.9
25.4
2015-16
OKAY
72
36
50.5
38.8
89.8
0.6
7.6
8.2
5.0
1.9
1.0
3.5
1.2
28.2
2016-17
GOS
62
33
53.7
37.5
87.5
0.6
7.7
8.3
4.8
1.9
1.1
2.2
1.6
25.1
2017-18
GOS
68
34
51.6
41.9
88.9
0.5
6.4
6.8
5.4
2.0
0.7
3.0
1.8
26.4
2018-19
GOS
78
35
52.1
35.3
88.5
0.4
6.0
6.4
5.9
2.0
0.7
2.9
1.1
26.0
2020-21
BRK
35
33
53.7
45.0
88.2
0.4
6.7
7.1
5.6
2.0
0.7
3.4
1.3
26.9
2021-22
BRK
36
37
52.0
37.2
89.4
0.6
6.9
7.4
5.8
1.9
0.8
3.0
0.9
29.3
Total
920
37
49.5
38.4
88.3
0.7
6.4
7.1
4.2
1.9
1.1
3.1
1.1
27.1