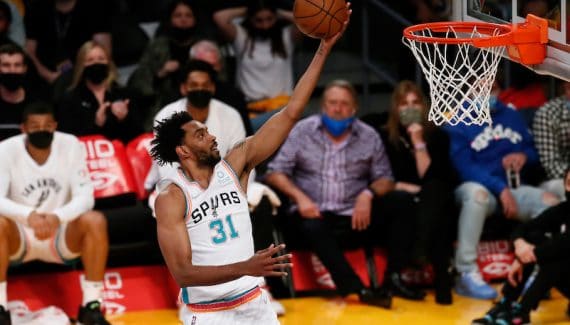 Facing the Clippers earlier in the week, he had to be content with four short minutes of play and two points scored. Against the Jazz, at the start of the Spurs' road trip, he had not even entered the floor …
That night, Gregg Popovich did not hesitate to send Keita Bates-Diop, for 27 minutes, into the deep end against LeBron James and the Lakers. The strong winger stood out from the start of the second quarter by cutting a pass from the "King" precisely, before going to finish alone in the counter-attack, with a "lay-up".
The first basket of a long series for him. Faced with the laxity of the Lakers' internal defense, "KBP" has multiplied the smart cuts to the circle. With their passing quality, Dejounte Murray and Derrick White distributed towards their interior always well placed.
" I read the defense and made my trips. I don't think I dribbled a lot. My teammates just found me ", notes the Texan MVP of the evening. The latter, in addition to punishing in abundance under the circle, even allowed his long-distance address to speak in the last quarter with three award-winning baskets.
History of ending a perfect evening with 30 points (11/11 on shots), 7 rebounds, 35 evaluation and +20 in score when he was on the floor. The previous career record of the former Wolves and Nuggets player, drafted in 2018 in 48th place, went back to 2019 with … 22 points scored.
" Keita was fantastic ", describes his coach. "He was good on both sides of the pitch. We could hardly limit LeBron (36 points), but he did his best. He shot and moved well without the ball. "The future Hall of Famer takes the opportunity to salute the collective performance of his team, appreciating the impact of some substitutes who" have surpassed the incumbents ".
Keita Bates-Diop, who was only four points on average before this match, is obviously one of them. Did Gregg Popovich expect such a performance from him?
" It would be ridiculous to expect that from him ", Logically slices the coach before describing his replacement as" the easiest player to coach, a great teammate, more and more disciplined and more and more confident. He's not doing anything spectacular but he's always in the right place ".
The Staples Center will remember this as Keita Bates-Diop is only the 5th player since 2000 to compile 30 points at 100% success, after Dwight Howard, Nikola Jokic, Domantas Sabonis and Thomas Bryant.
Keita Bates-Diop
Percentage
Rebounds
Season
Team
MJ
Min
Shots
3pts
LF
Off
Def
Early
Pd
Fte
Int
Bp
Ct
Pts
2018-19
MIN
30
17
42.3
25.0
64.3
0.5
2.2
2.8
0.6
1.0
0.6
0.5
0.5
5.0
2019-20 *
All Teams
44
17
42.7
33.0
72.0
0.6
2.3
2.9
0.7
1.0
0.4
0.4
0.6
6.6
2019-20 *
MIN
37
18
42.2
33.0
70.8
0.6
2.4
3.0
0.8
1.0
0.5
0.4
0.5
6.8
2019-20 *
DEN
7
14
46.4
33.3
80.0
0.6
1.9
2.4
0.0
1.0
0.3
0.4
0.6
5.3
2020-21
SAN
30
8
44.8
29.4
66.7
0.3
1.3
1.6
0.4
0.4
0.4
0.2
0.2
2.6
2021-22
SAN
23
14
48.0
23.5
66.7
0.9
2.5
3.4
0.5
0.9
0.4
0.7
0.4
3.8
Total
127
14
43.6
29.6
69.0
0.6
2.1
2.7
0.6
0.8
0.5
0.4
0.4
4.8