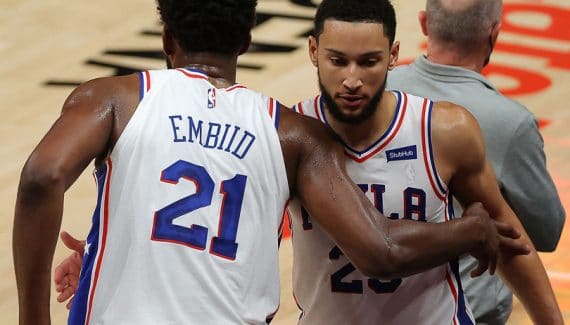 Guest of Mike Missanelli Show, Joel Embiid did not escape questions about the situation of Ben Simmons and his desires to leave, and as always, the All-Star pivot did not seek to kick into touch. The Cameroonian is more the type to say what he thinks, and for him, this affair should never have taken on such proportions.
Initially, there is a loss in seven games against the Hawks, and " it was everyone's fault he says.
"In the end, you have to look in a mirror. When we lost [en playoffs], I looked at myself in the mirror. I knew I wasn't good enough. I knew I wasn't healthy and I knew I wasn't good enough. So I looked in the mirror and tried to find ways to improve myself and help the team improve. I gave it my all this summer to try to improve in all facets of my game, and I know a lot of other guys did. You can see the progress Tyrese has made [Maxey]Tobias [Harris] and all the other players on the team. In the end, I think you have to have some self-awareness, look in the mirror and see how you can help the team. It's never just one player, you can't win one-on-five basketball. You need your teammates, you need everyone to do their part. "
"Obviously some people handle pressure differently, especially from the fans and so on."
For Joel Embiid, the comments after the playoff loss were normal and classic. Philly had failed at home against an opponent within reach.
" As for the idea that we take on others, I don't see it that way. Look at the comments that have been made… I was not targeting anyone in particular. I just recalled a set of facts. It was what ? We missed a free throw and it was Matisse [Thybulle]. Matisse wasn't mad at me, he just knew I was confronting him with his failure. I want us to be better, I want to improve and I want my teammates to be better too. He wasn't mad at me. I have a big miss in the fourth quarter, [Danilo] Galinari stole the ball from me. There were also a bunch of other events, we fouled 3-point shooters at the end of the fourth quarter…"
For Joel Embiid, the lay-up refused by Ben Simmons was therefore only one error among others, criticized like the others. That's why he thinks the evil is deeper, and that Doc Rivers' criticisms and his were ultimately just a pretext.
"I look at what had been said throughout the year. The coach supported us all, especially [Simmons]" continues Joel Embiid. "Throughout the year, he always congratulated us and all that. It's a bit like this one thing [après le 7e match] was the sole reason for everything that happened next, so it's not fair, because everyone is allowed to make mistakes, especially in the heat of the moment. But I really believe it's deeper than that. It's obvious that some people handle pressure differently, especially from the fans and so on. For me personally, honestly, I wouldn't change a thing. I'm frank, I won't take back what I said, especially because I didn't mention anyone, and I didn't take it out on anyone. "
"We are always a better team with him on the court"
In the end, he repeats, he is ready to go for the title without Ben Simmons, even if he remains convinced that the team would be even better with him.
"Anything that can help me achieve this goal is fine with me. I have always said, of course, that we are a better team with [Simmons] in the field. I'm sure a lot of people agree. And even if they don't want to agree, it doesn't matter, we're still a better team with him on the court. Let's say I don't hate anyone and I have no problem with anyone in the league. Let's imagine that I really hate someone on another team and the front office recruits him thinking that we can win a title with him. You know what ? I have no misplaced pride. My goal is to win a championship, and I wouldn't mind. do not disturb me. "
Shots
Bounces
Players
GM
Minimum
Shots
3 points
LF
Off
Def
Early
pd
bp
Int
CT
party
Points
Joel Embiid
41
33.0
49.7
36.4
80.9
2.0
8.9
10.9
4.4
2.9
1.0
1.5
2.6
29.3
Tobias Harris
44
35.3
48.2
34.2
85.1
1.1
6.2
7.3
3.8
1.8
0.7
0.6
2.0
18.9
Tyrese Maxey
46
35.8
47.5
40.7
86.7
0.4
3.2
3.5
4.8
1.2
0.7
0.6
2.1
16.9
Seth Curry
44
35.0
49.1
40.6
87.7
0.4
3.0
3.3
4.1
1.9
0.8
0.2
2.2
15.3
Shake Milton
27
24.8
42.9
31.6
85.4
0.5
2.5
3.0
2.8
1.1
0.7
0.4
2.1
10.5
George Niang
49
23.0
43.8
39.8
86.4
0.3
2.3
2.6
1.5
0.9
0.4
0.2
2.6
9.5
Furkan Korkmaz
46
24.3
39.2
28.8
84.4
0.3
2.7
3.0
2.3
0.8
0.6
0.1
1.0
9.0
Danny Green
35
23.6
41.5
38.9
90.0
0.5
2.1
2.6
1.0
0.9
1.1
0.8
1.8
6.9
Andre Drummond
48
18.5
53.8
0.0
51.2
2.8
6.1
8.9
1.9
1.6
1.1
0.9
2.5
6.1
Matisse Thybulle
38
26.3
49.7
30.1
64.7
0.5
1.8
2.3
1.1
0.7
1.8
1.1
2.2
5.7
isaiah joe
38
12.9
35.5
33.0
95.2
0.1
1.1
1.2
0.7
0.3
0.3
0.1
1.0
4.0
Tyler Johnson
3
12.7
40.0
42.9
0.0
0.3
1.7
2.0
0.7
0.3
0.3
0.3
1.3
3.7
Charles Bassey
22
7.3
65.1
0.0
72.7
0.9
1.8
2.7
0.3
0.4
0.2
0.8
1.4
2.9
Paul Reed, Jr.
21
8.8
46.5
0.0
37.5
1.0
1.3
2.2
0.5
0.3
0.6
0.5
1.3
2.0
Charlie Brown
14
10.8
25.8
11.1
87.5
1.0
1.1
2.1
0.3
0.4
0.5
0.2
1.1
1.7
Myles Powell
11
4.7
29.4
16.7
100.0
0.1
0.5
0.5
0.3
0.3
0.1
0.0
0.7
1.2
Jaden Springer
2
2.8
100.0
0.0
0.0
0.5
0.5
1.0
0.0
0.5
0.0
1.0
0.0
1.0
Braxton Key
2
3.2
50.0
0.0
0.0
0.5
0.5
1.0
0.5
1.0
0.5
0.0
0.5
1.0
Aaron Henry
6
2.8
20.0
0.0
0.0
0.0
0.2
0.2
0.0
0.3
0.0
0.3
0.3
0.3