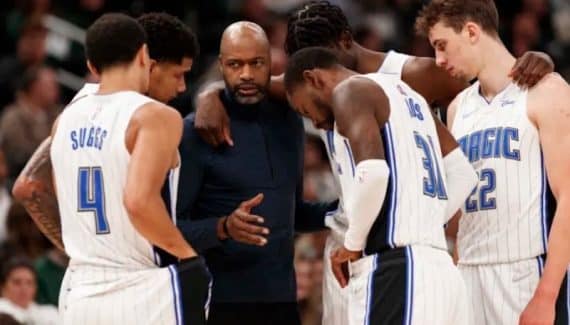 After a first season without much flavor on the collective level (22 wins – 60 losses), but which at least allowed to give free rein to young people and which resulted in the selection of Paolo Banchero with the first choice of the Draft this summer, Jamahl Mosley begins to see more clearly, at the dawn of his second exercise at the head of the reconstruction of the Magic.
Relatively young for a head coach (43 years old), the tactician leads a workforce with which he is rather in phase, since the Magic, for the 2022/23 season, will be the second youngest club in the NBA (average age of 23.6 years), behind the Thunder.
A very young squad, but full of talent, with many former "lottery picks" just waiting to take a step forward individually: Markelle Fultz and Jonathan Issac (#1 and #6 in 2017), Mo Bamba and Wendell Carter Jr. (#6 and #7 in 2018), Jalen Suggs and Franz Wagner (#5 and #8 in 2021), Paolo Banchero this year (#1), without forgetting Cole Anthony, RJ Hampton, Caleb Houstan and Chuma Okeke…
Respect the principles
In short, the Magic, on paper, have many pieces available to build a nice project, but the hardest part is yet to come in practice: getting all these young people to play together, in order to create a team capable of having lasting success.
A mission that ultimately falls to Jamahl Mosley. The Magic coach particularly insists on effort and responsibility as the founding pillars of his project for this young squad.
" Our first objective this season is to be competitive." he recently said. " Last year, we played hard, and of course we made a lot of mistakes, inherent to youth. So I know it's not going to be perfect, but they're being asked, at a minimum, to fight and play hard every night. We hope that they are able to avoid repeating the same mistakes, and to understand where they come from. That they master the founding principles of our game, that they know where, when and why they perform this or that action."
Demanding in his approach, the former Dallas assistant therefore appreciates seeing that his young players are already at work, in the Magic's brand new training center, as training camp approaches.
" Iron is sharpened by iron he adds. " These guys are going to make each other better, they push each other up. At the moment, we're doing pick-ups in training, and these guys are giving it their all, they don't spare themselves. It's fun to watch. […] That's why this puzzle is going to be great to put together. I am thrilled with their state of mind."