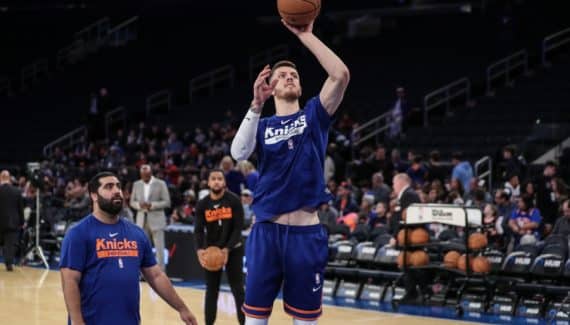 With 3.8 points and 5.6 rebounds in 18 minutes during the Knicks' five-game road trip in the Western Conference, which ended with a record of 3 wins and 2 losses, Isaiah Hartenstein has clearly not been the most prominent player.
If he explains that he was particularly sick and therefore not at the top of his form during this trip away from New York, the pivot replacing the Knicks also admits that he is dealing with persistent discomfort, inflammation according to his words. , to the Achilles tendon since the start of the season. This ten-day "road trip" did not help matters.
" It was a particularly complicated trip for me. I've been sick, and I still haven't gotten rid of my worries with my Achilles tendon. But I tried to give the best version of myself, despite the little mobility I have, with my tendon which in reality has only been at 80% since the start of the season. » thus declared the former Rockets or Clippers player.
More broadly, Isaiah Hartenstein details that his arrival in New York asked him, and still asks him, for time to adapt to his role. Since Tom Thibodeau uses him exclusively as a simple player who "rolls" towards the circle, like Mitchell Robinson and Jericho Sims, whereas in the past he was more of a "playmaker" at the head of the racket, in Los Angeles in particular.
" I adjust to a role in which I play more like [Mitchell Robinson et Jericho Sims]. It's not something I'm used to, so it's a bit more of a challenge. It's a role à la Mitch', I put the screen down and I open up to the circle. he continues. " But I want to do what the team needs to win. If it's playing with one or two other big guys, if it's playing small, I'm ready. »
Isaiah Hartenstein
Percentage
Bounces
Season
Crew
GM
Minimum
Shots
3 points
LF
Off
Def
Early
pd
party
Int
bp
CT
Points
2018-19
HOO
28
8
48.8
33.3
78.6
0.8
0.9
1.7
0.5
2.0
0.3
0.5
0.4
1.9
2019-20
HOO
23
12
65.7
0.0
67.9
1.3
2.7
3.9
0.8
1.8
0.4
0.7
0.5
4.7
2020-21 *
All Teams
46
12
55.0
33.3
64.8
1.4
2.5
3.9
1.2
2.3
0.4
1.0
0.9
5.1
2020-21 *
DEN
30
9
51.3
0.0
61.1
1.3
1.5
2.8
0.5
2.0
0.4
0.7
0.7
3.5
2020-21 *
KEY
16
18
58.2
33.3
68.6
1.6
4.4
6.0
2.5
2.8
0.5
1.4
1.2
8.3
2021-22
LAKE
68
18
62.6
46.7
68.9
1.7
3.2
4.9
2.4
2.5
0.7
1.2
1.1
8.3
2022-23
NYK
18
23
52.6
23.5
83.3
3.2
4.3
7.6
0.8
2.8
0.8
0.9
1.2
6.7
Total
183
15
59.0
34.4
69.2
1.6
2.7
4.3
1.4
2.3
0.5
1.0
0.9
5.9