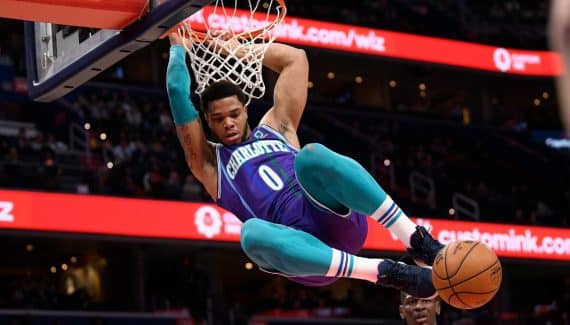 Charged with "domestic violence", Miles Bridges is still awaiting the opening of his trial, and he will appear in court on October 7, his appearance before the judges having been postponed.
The basketball player pleaded not guilty during his appearance last July in a Los Angeles court. Under three counts, he is accused of having assaulted his partner in front of their two children, at the end of June. The prosecutor's office indicted him for child abuse and domestic violence.
As he refused to plead guilty and negotiate his sentence, Miles Bridges must now try to prove his innocence at trial. He faces up to 12 years in prison.
A situation that places his NBA career on hold. While he was a "free agent" and could hope for a very big check, the Charlotte winger must indeed wait for the outcome of his trial to find out if he can continue to play in the Big League. So far, the Hornets have given him the option of signing their $7.9 million qualifying offer, which offered him a contract for this season and would have allowed him to test the market next summer, as " free agent" unprotected.
But the 24-year-old didn't want to sign the offer, which expired on October 1. The club and the player had the option of extending the deadline until March 1, but according to The Athletic, both parties eventually let the 'qualifying offer' expire. Which means that Miles Bridges will no longer be able to sign her.
However, that doesn't mean the former Michigan State player is free to sign wherever he wants.
He thus remains a protected "free agent" and Charlotte must now negotiate a new contract with him, or align herself with the external offers that will be made to him… if he ever manages to avoid prison in court.
Miles Bridges
Percentage
Bounces
Season
Crew
GM
Minimum
Shots
3 points
LF
Off
Def
Early
pd
party
Int
bp
CT
Points
2018-19
CHA
80
21
46.4
32.5
75.3
0.8
3.2
4.0
1.2
1.4
0.7
0.6
0.6
7.5
2019-20
CHA
65
31
42.4
33.0
80.9
1.4
4.2
5.6
1.8
2.0
0.6
1.5
0.7
13.0
2020-21
CHA
66
29
50.3
40.0
86.7
1.2
4.8
6.0
2.2
2.2
0.7
1.6
0.8
12.7
2021-22
CHA
80
36
49.1
33.1
80.2
1.1
5.9
7.0
3.8
2.4
0.9
1.9
0.8
20.2
Total
291
29
47.3
34.6
80.9
1.1
4.5
5.6
2.3
2.0
0.7
1.4
0.7
13.4