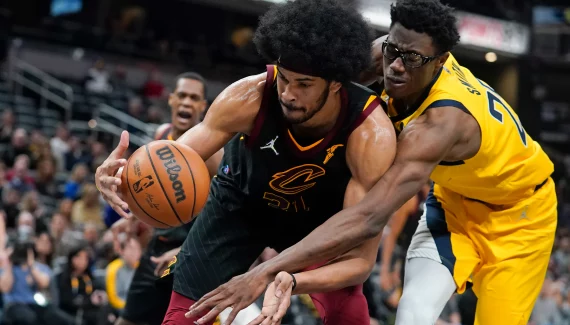 Selected in the "lottery" in 2020, in 10th position by the Suns, Jalen Smith will not have had the opportunity to show himself in Arizona. For his own good, and to be able to bring back a Torrey Craig more able to help immediately, Suns GM James Jones therefore sent him to the Pacers.
The Indiana franchise, after the departures of Caris LeVert and Domantas Sabonis in recent days, have begun a reconstruction around Tyrese Haliburton, and other young people. Among them, there is now Jalen Smith, who has something to play for at the end of the season, more dedicated to the next Draft than to the race for the playoffs.
For his Pacers debut tonight, the former Maryland interior shone. In 20 minutes off the bench, he compiled 12 points, 3 rebounds, 1 steal and 1 block. All at 5/7 shooting. A very clean match which also earned him the congratulations of his coach Rick Carlisle.
" Jalen did a good job. He played in 4 and 5, and he was effective in both positions. When he came out of college, many observers saw him as a mix between a 4 and a 5, a kind of combo.explains the coach. "That's what he showed tonight. He is in a good situation, because with the departure of Torrey to Phoenix, minutes are freed up on position 4 and he will be able to fill them."
With the return over the next few weeks of Myles Turner, who following the departure of Domantas Sabonis will be able to play exclusively at position 5, Jalen Smith will indeed have to evolve more as a strong winger.
" He has a very good IQ, a good sense of the game. And above all, he is a very attentive young man. So he really matches the player profile we were looking for "Ends the former Dallas tactician.
Shots
Bounces
Players
GM
Minimum
Shots
3 points
LF
Off
Def
Early
pd
bp
Int
CT
party
Points
Domantas Sabonis
47
34.7
58.0
32.4
74.0
3.3
8.8
12.1
5.0
3.0
1.0
0.5
3.1
18.9
Caris Levert
39
31.1
44.7
32.3
76.0
0.8
3.1
3.8
4.4
1.9
0.9
0.5
2.3
18.7
Malcolm Brogdon
28
33.4
44.8
30.7
86.1
0.9
4.3
5.1
5.9
2.2
0.9
0.4
2.0
18.5
Chris Duarte
48
29.0
43.5
35.9
79.2
0.7
3.5
4.2
2.2
1.6
1.1
0.2
1.7
13.6
Myles Turner
42
29.4
50.9
33.3
75.2
1.5
5.5
7.1
1.0
1.3
0.7
2.8
2.8
12.9
Justin Holiday
49
28.9
41.5
37.8
82.9
0.4
2.4
2.8
1.8
1.0
0.7
0.4
2.1
11.0
Duane Washington, Jr.
24
21.1
38.4
34.8
80.8
0.1
2.0
2.0
2.0
1.0
0.5
0.0
1.2
9.7
Lance Stephenson
20
18.8
45.6
27.5
80.0
0.5
2.6
3.0
4.2
1.9
0.5
0.1
2.0
9.6
Terry Taylor
10
16.6
55.2
57.1
80.0
3.5
3.1
6.6
1.6
0.4
0.1
0.2
1.8
8.6
Tj McConnell
24
24.2
50.3
28.0
80.0
0.8
2.5
3.3
4.8
1.2
1.0
0.4
1.8
8.4
Jeremy Lamb
39
15.7
37.3
33.3
83.8
0.4
2.0
2.4
1.3
0.6
0.6
0.4
1.1
7.1
Keifer Sykes
18
19.6
36.7
30.4
85.7
0.3
1.6
1.9
2.1
1.3
0.4
0.2
2.0
6.5
Torrey Craig
51
20.3
45.6
33.3
77.1
1.2
2.7
3.8
1.1
0.8
0.5
0.4
1.9
6.5
Oshae Brissett
43
19.1
40.3
33.3
65.8
1.3
3.1
4.4
0.7
0.7
0.6
0.3
1.4
6.4
Kelan Martin
27
16.4
41.7
29.7
69.2
0.6
1.4
2.0
0.8
0.5
0.5
0.3
1.3
6.3
isaiah jackson
19
9.5
52.6
42.9
67.7
1.2
1.6
2.8
0.4
0.5
0.4
0.8
1.8
5.5
Goga Bitadze
32
11.2
44.3
17.8
63.0
1.4
1.5
2.8
0.6
0.8
0.4
0.7
1.7
4.8
Brad Wanamaker
22
13.3
36.1
23.5
90.9
0.3
1.3
1.6
2.2
1.0
0.2
0.3
1.9
3.5
justin anderson
3
10.1
18.2
11.1
100.0
0.7
0.7
1.3
1.0
0.3
0.3
0.3
1.7
2.7
Ahmad Caver
1
0.8
100.0
0.0
0.0
0.0
0.0
0.0
0.0
0.0
0.0
0.0
0.0
2.0
Reggie Perry
1
9.9
100.0
0.0
0.0
0.0
1.0
1.0
0.0
0.0
0.0
0.0
3.0
2.0
Dejon Jarreau
1
0.8
0.0
0.0
0.0
0.0
0.0
0.0
0.0
0.0
0.0
0.0
0.0
0.0
Nate Hinton
2
1.2
0.0
0.0
0.0
0.0
0.0
0.0
0.0
0.5
0.0
0.0
0.0
0.0