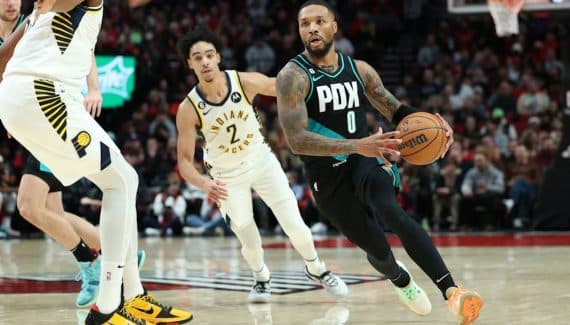 Winners the day before the Jazz thanks to the individual feat of Anfernee Simons (45 points), the Blazers received the Pacers tonight to chain a 2nd success in a row and look up again. Strengthened by the return of Damian Lillard, the locals confirmed with a fairly clear victory (116-100) against the Pacers deprived of Tyrese Haliburton.
It all happened in the third quarter. Anfernee Simons and Jerami Grant took turns to score 23 of their team's 39 points over the period, 11 and 12 respectively. Dropped to 22 points at several times, the Pacers will manage to cut the gap in half in the last quarter, but without ever being able to get closer.
Again well balanced in attack with Lillard, and an effective passing game (32 passes for 42 shots), the Blazers were also able to count on a solid address from afar (17/40), carried by the 5/9 of Simons or Lillard's 5/10.
Without Haliburton, the Pacers therefore have a third straight setback in this difficult "road trip" which has lasted for a week now (four losses in five games).
WHAT YOU MUST REMEMBER
– Lillard's winning return. After eight failed games, including seven losses, the Blazers were very happy to find their All Star leader last night. Another good sign, Lillard returned his first shot of the evening, a signature "step back" from 3-pointers in the corner. A little rusty, Dame certainly finished at 7/16 on shots and 4 stray bullets, but her contribution (21 points, 6 assists) was much greater ultimatelywith Blazers who rolled over their opponent in the 3rd quarter (39-25).
– Haliburton in the infirmary. At 19 points, 11 assists and 4 rebounds on average this season, Haliburton is bringing his talent to light this season with the Pacers. Unfortunately, that night he missed the first game of his season with a groin doubler. Rick Carlisle has already specified that the leader would also be absent against Golden State to close this "back to back".
TOPS/FLOPS
✅ Anfernee Simons. After his 45-point offensive explosion, Simons kept his hand warm with 22 points and 6 assists, 8/14 on shots including 5/9 from behind the arc. Very clean, "Ant" conceded only one stray bullet, exploding for 11 of his 22 points in the 3rd quarter that made the switch.
✅ Damian Lillard. For his first match since November 19, Damian Lillard made a successful comeback. With 21 points and 6 assists, he was solid overall, although he missed a few finishes near the circle and wasted 4 balls.
✅ Buddy Hield. Without Haliburton, Buddy Hield was in the oven and the mill, finishing in the double-double with 22 points and 11 rebounds. After his little game at 6 points (2/8) in Utah, Buddy Love was keen to redo the icing…
⛔ Bennedict Mathurin. In skill deficit for three games, and the loss to Sacramento, the Pacers rookie once again unscrewed last night. At 5/15 on shots for 10 points, it's been three games in a row that the former Arizona player hasn't scored beyond the arc (0/7).
THE FOLLOWING
Indiana (12-10) : penultimate stage of their "road trip" in Golden State this night.
Portland (12-11) : reception of the Nuggets on Thursday.
Portland

/

116
Shots
Bounces
Players
Minimum
Shots
3 points
LF
O
D
T
pd
party
Int
bp
CT
+/-
Points
Rating
J.Grant
33
9/21
3/10
7/7
3
2
5
3
2
0
2
0
+28
28
22
J. Nurkic
28
7/12
2/3
3/7
1
5
6
4
2
1
1
1
+2
19
21
D.Lillard
32
7/16
5/10
2/2
0
4
4
6
4
1
4
1
+30
21
20
J.Hart
33
5/8
1/3
0/0
4
6
10
3
1
3
2
0
+27
11
22
A.Simons
36
8/14
5/9
1/1
0
3
3
6
2
1
1
0
-8
22
25
J.Winslow
24
2/6
0/1
0/0
3
3
6
3
2
2
3
0
+13
4
8
D. Eubanks
16
1/3
0/1
0/0
0
5
5
2
0
1
0
1
+13
2
9
T.Watford
17
1/2
0/0
0/0
0
2
2
4
1
0
1
0
-12
2
6
G.Brown III
2
0/0
0/0
1/2
0
1
1
0
1
0
0
0
-1
1
1
J Walker
2
0/0
0/0
0/0
0
0
0
0
0
0
0
0
-1
0
0
S.Sharpe
18
2/4
1/3
1/3
0
3
3
1
2
1
1
0
-11
6
6
42/86
17/40
15/22
11
34
45
32
17
10
15
3
116
140
Indiana

/

100
Shots
Bounces
Players
Minimum
Shots
3 points
LF
O
D
T
pd
party
Int
bp
CT
+/-
Points
Rating
J.Smith
17
3/8
0/3
0/0
2
1
3
3
0
0
0
2
-15
6
9
A.Nesmith
24
3/8
0/3
4/4
0
3
3
1
4
3
1
0
-19
10
11
Mr. Turner
28
10/17
3/6
1/1
3
6
9
2
5
0
4
0
+1
24
24
A.Nembhard
37
7/12
2/6
0/0
1
5
6
8
2
1
3
0
-15
16
23
B.Hield
38
8/17
4/9
2/3
3
8
11
3
2
1
2
1
-4
22
26
J. Johnson
4
0/1
0/0
0/0
0
0
0
0
2
0
1
0
-12
0
-2
O. Brissett
27
2/3
1/2
0/0
0
5
5
2
2
2
1
0
-4
5
12
T.Taylor
2
0/0
0/0
0/0
0
0
0
0
0
0
0
0
-1
0
0
I.Jackson
16
2/7
0/0
3/4
2
1
3
1
3
0
0
2
-8
7
7
T.Queen
13
0/2
0/2
0/0
1
0
1
1
0
1
2
0
+6
0
-1
K.Brown
2
0/1
0/0
0/0
0
0
0
0
0
0
0
0
+1
0
-1
B. Mathurin
32
5/15
0/2
0/0
0
3
3
1
2
2
1
0
-10
10
5
40/91
10/33
10/12
12
32
44
22
22
10
15
5
100
113