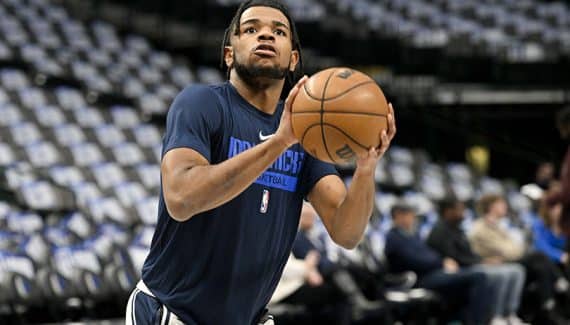 " We don't want to hold back someone so young. So during the Summer League, Jared Dudley and the Mavs are going to allow jade hardy to speak. The player, who turns 21 today, is about to start his second season in the big league, and will even be the "go-to-guy" of the young Texas team.
" Last month I was busy preparing him for the summer league, where he could face some pitfalls and I said to him: 'Hardy is going to have his 18 or 20 shots (per game). But 15 or 16 of them must be good shots' », claims the former NBA player who will coach the Mavs this summer.
" Everyone knows he's our first option in attack. But he must be able to screen and cut, serve inside, transfer to AJ (Lawson) in the corner. It's part of his development, to be able to pass the first defender and see the open player in the corner. But his confidence and ability to shoot are remarkable. That's why we see his potential, why fans appreciate him and see what he can potentially become. ", continues Jared Dudley.
Like a Cam Thomas at the Nets, Jaden Hardy showed more than once during his rookie season that he was capable of hot shots. In March alone, in which the Texans slipped in the standings, the back shot at nearly 16 points on average. With in particular six outings at 20 points or more.
"We know he has it in him"
But the person concerned, who was shooting with 44% success, including 40% behind the arc, still has plenty to refine his game. He also says he is coming to this summer league with a view to remaining faithful to his game, while concentrating on making the right choice. " Make the right choice, try to make the same decisions, as if Luka (so) was here ", also formulates the native of Detroit.
" When he lets the game come to him, if he's at 1/6, will he still take two bad shots? That's why I try to reassure him by saying, 'Hey, you have 20 shots, all my systems are for Hardy'. We know he has it in him, it's made for him, but at the same time, it's a lot of responsibility because he has the green light to shoot every time. It's very similar to Luka ", compares Jared Dudley.
And like the Slovenian master, student Hardy must also make efforts on the other side of the field. The back thinks he has progressed in the sector, being more lively in his lateral movements for example. His summer coach is convinced that he will gain in playing time by showing himself more in defense.
" I am not a coach (major) but what was it, 15 minutes? For him to reach 25 or 27 minutes, his defense must be on point, he must be attentive to the game away from the ball… […] He has to defend on players like Kyrie (Irving) and Luka, who are elite players. For him, therefore, it is about being aware of what is happening away from the ball ", repeats Jason Kidd's assistant, who thus gives all the axes of progression to his player.
jade hardy
Percentage
Bounces
Season
Crew
GM
Minimum
Shots
3 points
LF
Off
Def
Early
pd
party
Int
bp
CT
Points
2022-23
DAL
48
15
43.8
40.4
82.3
0.2
1.6
1.9
1.4
1.3
0.4
1.0
0.2
8.8
Total
48
15
43.8
40.4
82.3
0.2
1.6
1.9
1.4
1.3
0.4
1.0
0.2
8.8
How to read the stats? MJ = matches played; Min = Minutes; Shots = Shots made / Shots attempted; 3pts = 3-points / 3-points attempted; LF = free throws made / free throws attempted; Off = offensive rebound; Def= defensive rebound; Tot = Total bounces; Pd = assists; Fte: Personal fouls; Int = Intercepts; Bp = Lost bullets; Ct: Counters; Points = Points.