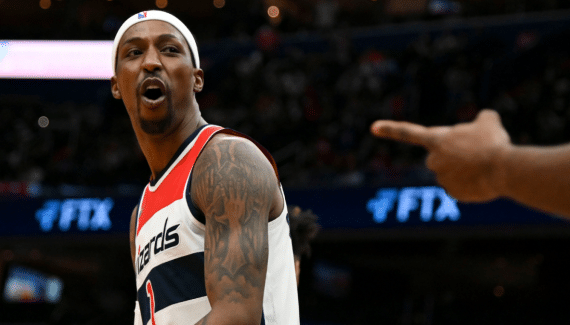 Tempers can heat up very quickly in the NBA. While he had just countered Josh Giddey and had gone on the counter-attack, hoping to play the carrot just before half-time, Montrezl Harrell was finally not served by Kentavious Caldwell-Pope, who did not failed to throw it and finally attempted an impossible 3-pointer.
It should have stopped there, but the two Washington teammates, already together at the Lakers before being sent to Washington in the exchange around Russell Westbrook, began to berate each other.
According to The Athletic, the tension thus mounted on the way to the locker room, before it exploded.
Montrezl Harrell and Kentavious Caldwell-Pope tried to punch each other, the two men missing their target before their teammates intervened to separate them and manage to calm the situation.
Upon entering the locker room, the altercation was already over and security had been tightened to prevent it from exploding again. Nothing serious, in the end, especially since Washington won the match with a decisive KCP.
Shots
Rebounds
Players
MJ
Min
Shots
3pts
LF
Off
Def
Early
Pd
Bp
Int
Ct
Fte
Pts
Bradley Beal
34
36.0
45.5
29.8
84.0
1.0
3.7
4.7
6.4
3.4
0.9
0.4
2.4
24.0
Kyle kuzma
39
33.3
45.2
32.3
68.1
1.0
7.6
8.6
2.8
2.0
0.6
0.7
2.0
15.6
Montrezl Harrell
34
25.4
64.5
30.0
73.6
2.2
5.1
7.3
2.2
1.1
0.5
0.6
1.9
14.4
Spencer dinwiddie
32
30.3
39.6
32.5
79.6
0.8
4.0
4.8
5.8
1.6
0.6
0.2
2.4
13.4
Kentavious Caldwell-Pope
38
29.7
42.0
38.9
88.2
0.5
3.1
3.6
1.7
1.3
1.2
0.4
1.8
11.6
Daniel Gafford
38
22.9
69.3
0.0
73.2
2.4
4.4
6.8
1.1
1.0
0.4
1.8
2.5
9.7
Raulzinho Neto
35
20.4
44.1
24.1
74.5
0.2
2.0
2.2
2.7
1.2
0.7
0.0
1.6
7.5
Deni Avdija
41
23.0
43.0
30.2
72.1
0.7
4.2
4.9
1.5
0.9
0.8
0.7
2.3
7.2
Brad Wanamaker
1
27.1
40.0
0.0
100.0
0.0
4.0
4.0
7.0
0.0
2.0
0.0
3.0
7.0
Davis Bertans
28
15.8
36.8
34.6
93.1
0.2
1.8
2.0
0.5
0.5
0.4
0.2
1.7
6.6
Rui Hachimura
2
14.4
38.5
0.0
50.0
0.5
2.0
2.5
1.0
0.5
0.0
0.0
1.0
6.5
Aaron Holiday
33
16.7
47.2
36.5
79.2
0.1
1.5
1.6
1.9
0.9
0.6
0.2
1.5
6.2
Corey kispert
36
17.3
42.1
29.2
84.8
0.5
1.5
2.0
0.8
0.5
0.3
0.3
0.8
5.6
Greg monroe
2
8.8
50.0
0.0
0.0
3.5
1.5
5.0
0.5
1.0
0.5
0.5
1.0
4.0
Anthony gill
16
6.7
66.7
71.4
83.3
0.5
1.1
1.6
0.5
0.2
0.1
0.1
1.1
3.2
Craig sword
3
6.3
75.0
0.0
0.0
0.0
0.0
0.0
0.3
0.3
1.3
0.0
2.3
2.0
Tremont Waters
1
8.4
50.0
0.0
0.0
0.0
0.0
0.0
0.0
0.0
1.0
0.0
2.0
2.0
Isaiah todd
9
3.9
33.3
40.0
50.0
0.2
0.8
1.0
0.1
0.1
0.2
0.2
0.1
1.8
Alize johnson
3
6.1
33.3
0.0
0.0
1.7
2.3
4.0
0.0
1.0
0.0
0.0
0.0
1.3
Cassius winston
2
3.4
0.0
0.0
100.0
0.0
0.0
0.0
1.0
0.5
0.0
0.0
0.0
1.0
Joel Ayayi
7
2.9
16.7
0.0
0.0
0.1
0.3
0.4
0.6
0.0
0.0
0.0
0.0
0.3
Jaime Echenique
1
3.1
0.0
0.0
0.0
0.0
0.0
0.0
0.0
0.0
0.0
0.0
0.0
0.0
Jordan Schakel
2
7.1
0.0
0.0
0.0
1.0
0.5
1.5
0.0
0.0
0.0
0.0
0.0
0.0
Jordan goodwin
2
3.0
0.0
0.0
0.0
0.0
0.5
0.5
0.0
0.0
0.0
0.0
0.5
0.0