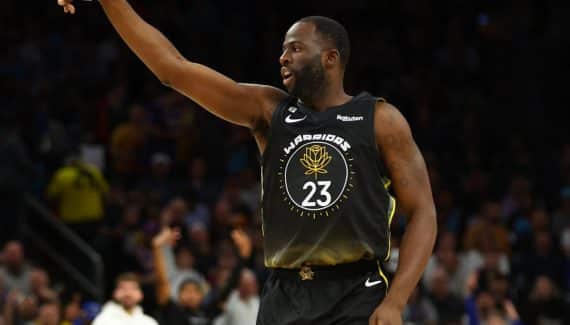 The start of the season for the defending champion was not a long calm river, between Draymond Green's punch on Jordan Poole and a very disappointing collective. The streak of eight straight losses on the road has been a stain and it took until Sunday to see Golden State win its first success away from its bases. And again, it was against the Rockets, good last in the NBA…
Two days earlier, after another setback conceded in Phoenix, Draymond Green felt it was time to set the record straight and express himself to the group, as he has been used to in moments difficult. The rest is Bob Myers, the GM of the Warriors, who told it.
"I spoke to Draymond the day before, and he told me he was going to speak to the team. I asked him what he was going to say, he told me, and I thought it was good"he says. "Every game, you feel good or not depending on the result, but you have to look beyond that. When you've been there a long time, you can feel when it's time (to talk), and I think Draymond has been there long enough to know when it's needed. They're a pretty unique team, with guys who've been through a lot, so he thought it was the right time. He's pretty good at analyzing that kind of stuff."
Leave time to time
In the wake of this speech, Golden State took the best of the Knicks at Chase Center (111-101) then won this famous first success outside, in Houston (120-127), with a Klay Thompson of gala. Last night, the team even signed a third victory in four games. As the calendar and / or the circumstances are rather favorable, it is difficult to say if it is the speech of Draymond Green which stung his people to the quick. But in the end, the most important thing is that the defending champions seem to find solutions to their problems.
"You'd have to ask each person what they thought of it, but based on what Klay has done since then, it's been pretty positive considering how he's reacted. And I'm sure Green wasn't the only one telling Klay to try to keep it simple and not push it. But whatever the reason, his response showed on the pitch. It is a positive point", thus sued Bob Myers.

Klay Thompson also took the opportunity to praise his teammate's speaking skills. "The meeting was very constructive, and Draymond is an excellent motivator. We all reacted very well. I can't wait to start a new winning streak."he slipped.
For Bob Myers, this episode shows that the potential discord born of Draymond Green's punch on Jordan Poole is now a thing of the past, and that Steve Kerr's group is now looking ahead. Time is starting to do its work and Draymond Green has regained his role in the locker room.
"Regarding Draymond's position as a leader, I think he realizes, given what happened, that he couldn't just come back into the locker room and take it on. But it's been a while now. The players and the staff were worn out by the way we played. And I think Draymond was like, 'I'm going to say something.he continued. "It's clear he's not proud of what he did that day (to Jordan Poole), but he also did the team a lot of good. He often spoke and the team reacted behind".
Draymond Green
Percentage
Bounces
Season
Crew
GM
Minimum
Shots
3 points
LF
Off
Def
Early
pd
party
Int
bp
CT
Points
2012-13
GOS
79
13
32.7
20.9
81.8
0.7
2.6
3.3
0.7
2.0
0.5
0.7
0.3
2.9
2013-14
GOS
82
22
40.7
33.3
66.7
1.1
3.9
5.0
1.9
2.8
1.2
1.1
0.9
6.2
2014-15
GOS
79
32
44.3
33.7
66.0
1.4
6.8
8.2
3.7
3.2
1.6
1.7
1.3
11.7
2015-16
GOS
81
35
49.0
38.8
69.6
1.7
7.8
9.5
7.4
3.0
1.5
3.2
1.4
14.0
2016-17
GOS
76
33
41.8
30.8
70.9
1.3
6.6
7.9
7.0
2.9
2.0
2.4
1.4
10.2
2017-18
GOS
70
33
45.4
30.1
77.5
1.1
6.6
7.6
7.3
2.6
1.4
2.9
1.3
11.0
2018-19
GOS
66
31
44.5
28.5
69.2
0.9
6.4
7.3
6.9
3.0
1.4
2.6
1.1
7.4
2019-20
GOS
43
28
38.9
27.9
75.9
0.5
5.7
6.2
6.2
2.6
1.4
2.3
0.8
8.0
2020-21
GOS
63
32
44.7
27.0
79.5
0.9
6.3
7.1
8.9
3.1
1.7
3.0
0.8
7.1
2021-22
GOS
46
29
52.5
29.6
65.9
1.0
6.3
7.3
7.0
3.0
1.3
3.0
1.1
7.5
2022-23
GOS
16
30
55.9
29.4
68.0
0.6
5.8
6.3
6.8
3.6
0.9
2.5
0.6
7.9
Total
701
29
44.3
31.5
71.1
1.1
5.8
6.9
5.5
2.8
1.4
2.2
1.0
8.7