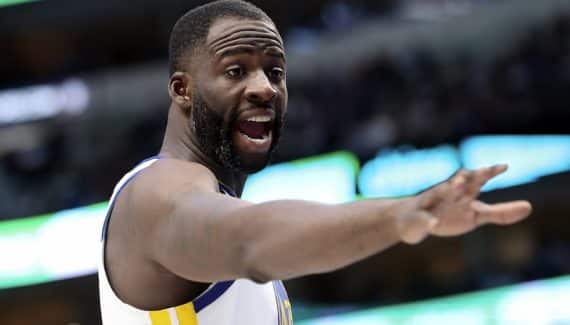 It is not known what provoked the reaction of Draymond Green but this one was visibly very annoyed! The league has just sanctioned the interior of the Warriors for his words used in the direction of a fan, presumably of the Mavs. Amount of the fine, classic: 25,000 dollars.
The scene took place at the start of the fourth quarter of the Warriors game, away to Dallas. During a pass by Spencer Dinwiddie on the free-throw line, the respondent addressed a fan seated in one of the first rows at the back of the backboard.
" Sit down and shut your mouth " or " Enjoy this fucking game and shut up ", he sent. The NBA has thus sanctioned the former defender of the year for making vulgar remarks towards a fan ".
Draymond Green
Percentage
Bounces
Season
Crew
GM
Minimum
Shots
3 points
LF
Off
Def
Early
pd
party
Int
bp
CT
Points
2012-13
GOS
79
13
32.7
20.9
81.8
0.7
2.6
3.3
0.7
2.0
0.5
0.7
0.3
2.9
2013-14
GOS
82
22
40.7
33.3
66.7
1.1
3.9
5.0
1.9
2.8
1.2
1.1
0.9
6.2
2014-15
GOS
79
32
44.3
33.7
66.0
1.4
6.8
8.2
3.7
3.2
1.6
1.7
1.3
11.7
2015-16
GOS
81
35
49.0
38.8
69.6
1.7
7.8
9.5
7.4
3.0
1.5
3.2
1.4
14.0
2016-17
GOS
76
33
41.8
30.8
70.9
1.3
6.6
7.9
7.0
2.9
2.0
2.4
1.4
10.2
2017-18
GOS
70
33
45.4
30.1
77.5
1.1
6.6
7.6
7.3
2.6
1.4
2.9
1.3
11.0
2018-19
GOS
66
31
44.5
28.5
69.2
0.9
6.4
7.3
6.9
3.0
1.4
2.6
1.1
7.4
2019-20
GOS
43
28
38.9
27.9
75.9
0.5
5.7
6.2
6.2
2.6
1.4
2.3
0.8
8.0
2020-21
GOS
63
32
44.7
27.0
79.5
0.9
6.3
7.1
8.9
3.1
1.7
3.0
0.8
7.1
2021-22
GOS
46
29
52.5
29.6
65.9
1.0
6.3
7.3
7.0
3.0
1.3
3.0
1.1
7.5
2022-23
GOS
20
31
60.2
32.0
69.7
0.6
5.5
6.1
7.1
3.4
1.0
2.4
0.7
9.0
Total
705
29
44.5
31.5
71.1
1.1
5.8
6.9
5.5
2.8
1.4
2.2
1.0
8.7