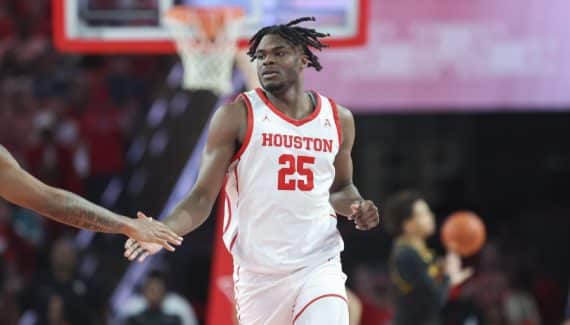 In a few days, June 22, Jarace Walker will undoubtedly become the first "lottery pick" passed by the University of Houston since… Hakeem Olajuwon, chosen in first position of the 1984 Draft!
A long wait for a major program in the university landscape for decades, but whose "production" of NBA players has never been a strong point, with the exception of the legend of the Rockets, therefore, or much more recently of the solid Quentin Grimes (Draft 2021), who has become a valuable starter for the Knicks.
But with Jarace Walker, the Cougars are now holding their possible new big headliner in the NBA. A prized recruit in his age group (#12 of the high school class of 2022), the "freshman" delivered a very satisfactory 2022/23 campaign as an individual, within one of the very best teams in the country (33 wins and 4 losses). A starter in all matches, the Pennsylvania native has indeed established himself without worries as one of the most valuable contributors to his training, alongside veterans Marcus Sasser or Jamal Shaed, and above all as a "one-and-done obvious and a future "lottery pick".
Profile
Job : Power forward
Size : 2m03
Weight : 109kg
Crew : Houston Cougars
Stats 2022/23: 11.2 points, 6.8 rebounds, 1.8 assists and 1.3 blocks
Strong points
– The physical profile. We push an open door, but the biggest quality of Jarace Walker, concerning his projection among the pros, is his physique. Beautiful baby of 2m03 for almost 110 kilos, at only 19 years old, the "freshman" from Houston is ready to take the shock physically in the NBA from the start of the school year. Strong winger, he may be a tad small for the position, but he compensates anyway with a big upper body power which allows him to absorb contacts, and an amazing mobility / liveliness. There is probably no more "NBA ready" than him on the physical level, in this 2023 vintage.
– Huge defensive potential. We said it above: with such physical and athletic qualities, Jarace Walker is naturally capable of defending because he knows how to absorb contacts. And there is even better: he is also "technically" a very good defender, especially because his support is fast, especially laterally. In the NCAA this season, for example, we have often seen him defend 3/4 positions with ease, starting wide and following his vis-à-vis to the circle. In the NBA, he will obviously have to adapt to the speed of opposing attackers, who are much faster and more athletic than on the university circuit, especially on the "switches" after the screens. But the potential seen in recent months in this area is reassuring for its transition to the next level. Especially since he is also a good defender in the collective. His reading of rotations is satisfactory, and he has particularly shone this season as a second-curtain defender (1.3 against / game). In an NBA where the 'drive' lanes are very wide with the 'spacing', he should continue to have a good impact in this area, and continue to progress.
Jarace Walker ranked in the 83rd percentile on isolation defense, allowing offensive players to shoot only 4-20 (20%) against him in isolation

He wins so many defensive possessions with discipline, length, strength, versatility, and outstanding intelligence & reaction time pic.twitter.com/ZqeV9yTmMm

—Mavs/Magic Draft (@MavsDraft) June 8, 2023
– Possibly a "stretch four". Far be it from us to put Jarace Walker in the category of "snipers" behind the bow, but we consider his potential as a really intriguing "stretch four". This season, the raw stats were certainly not particularly impressive (34.7% on 2.8 shots/game), but the visual impression leads to optimism. In particular because its shooting mechanics are very fluid for a player of his size, especially in "catch-and-shoot" (38% when it is open, in particular). He amazes with his sense of placement in relation to the ball carrier, and takes his shots with confidence. In the NBA, he will probably have to learn to draw faster, but the basis of work with which he will join the pros is really convincing. Especially since his "handle" is good for a player of his position and size, and suggests that he will also be able to progress in the exercise of the "pull-up" and the "floater".
Weak points
– Aggressiveness to the circle / finishing to the circle. This is the paradox of Jarace Walker: a physical phenomenon that does not attack the circle very much. This season in the NCAA, for example, we have observed a tendency for him to "hide" behind the use of the "floater", with average efficiency (34%), rather than really attacking the circle. Strangely, while he soaks up a lot of contact in defense, he isn't as comfortable on offense, so he doesn't go to the free-throw line very often (2.2 per game this season). It's a shame, because his technical background is interesting near the circle, and he showed, the few times he took position at the low post, that he could use his physical power to deposit big dunks on the defense, or get fouls. Better aggressiveness towards the circle will surely come with experience.
Comparison
Similarities with Paul Millsapor with larry johnson.
Prognosis
In the second half of Top 10. It's hard to imagine the Pacers skipping #7, if he's still available. He may also be an obvious choice for the Pistons at #5.
Draft 2023 player profiles
Scooter Henderson
Brandon Miller
Cam Whitmore
Nick Smith Jr
Jordan Hawkins
Keyonte George
Gradey Dick
Anthony Black
Cason Wallace