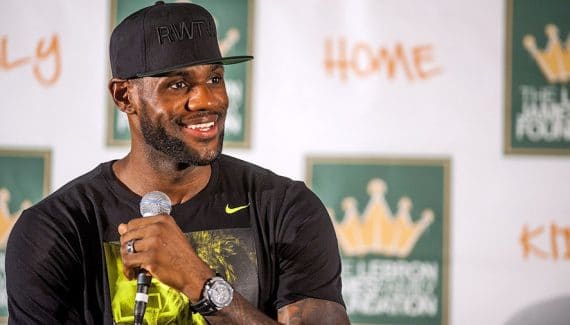 Sunday, LeBron James is going to play his 19th All-Star Game, and don't tell him he's back home in Cleveland.
"People always tell me, 'You're back home! But I tell them all the time that I'm not from Cleveland. There's no disrespect to Cleveland. But when we're from Akron, we're not from Cleveland, and that's where I'm from".
Nevertheless, it is always a special moment to return to Cleveland since he will obviously make a detour to Akron where there is his family and his school. Maybe he'll go to the LeBron James Arena, the name of the new venue at St. Vincent-St. Mary's. There, LeBron is a demigod, an inspiration to the youngest.
"Growing up in Akron, Ohio, it already feels like no one cares too much about you" continues LeBron in the LA Times. "The only people who really care about you are the people in this town. When you're in certain community centers, in certain gyms, you're looking for inspiration – people who came out before you, people who were already there. "
"If I can put kids in a position to succeed, or if they can use it to achieve their goals, then I've done my job"
As a teenager, LeBron had his role models and his mentors, and he pays homage to them. "It means you are blazing a trail while doing it for the next generation. It was our thing while we were there. It started with Maverick [Carter] and Derrick and Darren Tarver, guys who were already there. And we arrived and wanted to pave the way for the next generation. We wanted St. Vincent-St. Mary is a school that is not content with having unique players. They still do. Sencire and Malaki can be the best players in the state in a row, and that's phenomenal. And coach Dru is doing an amazing job. People talk about winning and things like that, but he really cares about the kids. He cares about the children. He cared about us. "
Twenty years later, LeBron also cares about children with his "I Promise School" school and his foundation, which have become models, to the point of being cited as examples by the American administration.
" It got me to where I am today.i" he concludes " If I can put kids in a position to succeed, or if they can use it to achieve their goals, then I've done my job. I've always talked about wanting to inspire the next generation and have people be proud to come from my hometown."
LeBron James
Percentage
Bounces
Season
Team
GM
Minimum
Shots
3 points
LF
Off
Def
Early
pd
party
Int
bp
CT
Points
2003-04
KEY
79
40
41.7
29.0
75.4
1.3
4.2
5.5
5.9
1.9
1.7
3.5
0.7
20.9
2004-05
KEY
80
42
47.2
35.1
75.0
1.4
6.0
7.4
7.2
1.8
2.2
3.3
0.7
27.2
2005-06
KEY
79
43
48.0
33.5
73.8
1.0
6.1
7.0
6.6
2.3
1.6
3.3
0.8
31.4
2006-07
KEY
78
41
47.6
31.9
69.8
1.1
5.7
6.7
6.0
2.2
1.6
3.2
0.7
27.3
2007-08
KEY
75
40
48.4
31.5
71.2
1.8
6.1
7.9
7.2
2.2
1.8
3.4
1.1
30.0
2008-09

★

KEY
81
38
48.9
34.4
78.0
1.3
6.3
7.6
7.3
1.7
1.7
3.0
1.2
28.4
2009-10

★

KEY
76
39
50.3
33.3
76.7
0.9
6.4
7.3
8.6
1.6
1.6
3.4
1.0
29.7
2010-11
MIA
79
39
51.1
33.0
75.9
1.0
6.5
7.5
7.0
2.1
1.6
3.6
0.6
26.7
2011-12

★

MIA
62
38
53.1
36.2
77.1
1.5
6.4
7.9
6.2
1.6
1.9
3.4
0.8
27.2
2012-13

★

MIA
76
38
56.5
40.6
75.3
1.3
6.8
8.0
7.3
1.5
1.7
3.0
0.9
26.8
2013-14
MIA
77
38
56.7
37.9
75.0
1.1
5.9
6.9
6.3
1.6
1.6
3.5
0.3
27.1
2014-15
KEY
69
36
48.8
35.4
71.0
0.7
5.3
6.0
7.4
2.0
1.6
3.9
0.7
25.3
2015-16
KEY
76
36
52.0
30.9
73.1
1.5
6.0
7.4
6.8
1.9
1.4
3.3
0.6
25.3
2016-17
KEY
74
38
54.8
36.3
67.4
1.3
7.3
8.6
8.7
1.8
1.2
4.1
0.6
26.4
2017-18
KEY
82
37
54.2
36.7
73.1
1.2
7.5
8.7
9.1
1.7
1.4
4.2
0.9
27.5
2018-19
ALL
55
35
51.0
33.9
66.5
1.0
7.4
8.5
8.3
1.7
1.3
3.6
0.6
27.4
2019-20
ALL
67
35
49.3
34.8
69.3
1.0
6.9
7.8
10.2
1.8
1.2
3.9
0.5
25.3
2020-21
ALL
45
33
51.3
36.5
69.8
0.6
7.0
7.7
7.8
1.6
1.1
3.7
0.6
25.0
2021-22
ALL
41
37
52.2
35.3
74.8
1.1
6.8
7.9
6.5
2.2
1.6
3.2
1.0
29.1
Total
1351
38
50.5
34.5
73.4
1.2
6.3
7.5
7.4
1.8
1.6
3.5
0.8
27.1