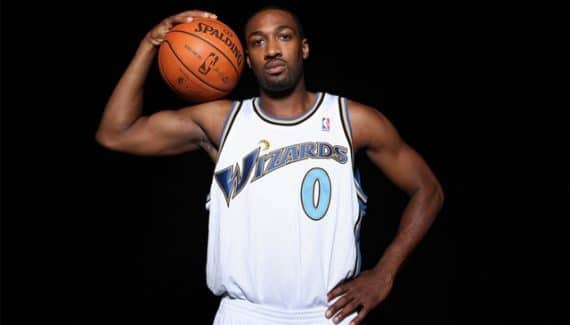 We are in December 2006, and weapons are not yet lying around in Washington's locker room…
Gilbert Arenas is a rising superstar, already an All-Star, and one of the league's leading scorers with 29 average points. The previous season, "Agent Zero" literally allowed Washington to cross the first round of the playoffs with a victory against the Bulls. A first for ages!
On December 17, 2006, the Wizards arrive at Staples Center with an average record (11 wins – 11 losses) to challenge the Lakers who started the season well (16 wins – 7 losses) despite an unlikely five with Kobe Bryant's great friend. at the lead (Smush Parker), Luke Walton and Vladimir Radmanovic on the wings, and Kwame Brown at pivot. Yes… with that five, the Lakers had only lost 7 games out of 23!
On the Washington side, the best roster of the 2000s with Gilbert Arenas therefore, but also Antawn Jamison, Caron Butler, DeShawn Stevenson and Brendan Haywood in the starting five.
Kobe Bryant bad loser…
That evening, the two teams did not want to defend and Gilbert Arenas will go down in the history of his franchise. He compiled 60 points, 8 rebounds and 8 assists, setting a new franchise record.
He also planted 16 points in overtime, and that's also a record! A total that allows the Wizards to win 147-141 after overtime, but also to do better than Kobe Bryant, yet boiling that year, who finished with 45 points. " It had to happen… explained Gilbert Arenas after the match, about his record. " I'm a scorer, and I knew that one day or another, it was going to pass. Most of the time, when I scored 46 points in three quarters, we won easily and I didn't play in the last quarter. But tonight was a close game and I played it all the way. »
Regret Kobe Bryant prefer to go to arbitration: " He scores 60 points, but with 27 free throws fired. Our team shot 30 in all. I leave it to you to draw the conclusion. »
Gilbert Arenas
Percentage
Bounces
Season
Team
GM
Minimum
Shots
3 points
LF
Off
Def
Early
pd
party
Int
bp
CT
Points
2001-02
GOS
47
25
45.3
34.5
77.5
0.9
1.9
2.8
3.7
2.5
1.5
2.1
0.2
10.9
2002-03
GOS
82
35
43.1
34.8
79.1
1.2
3.5
4.7
6.3
3.2
1.5
3.5
0.2
18.3
2003-04
WAS
56
37
39.2
37.5
74.8
1.0
3.6
4.5
4.9
3.1
1.8
4.0
0.2
19.3
2004-05
WAS
80
41
43.1
36.5
81.4
1.0
3.7
4.7
5.1
3.1
1.7
3.0
0.3
25.5
2005-06
WAS
80
42
44.7
36.9
82.0
0.7
2.8
3.5
6.1
3.6
2.0
3.7
0.3
29.3
2006-07
WAS
74
40
41.8
35.1
84.4
0.8
3.7
4.6
6.0
3.4
1.9
3.2
0.2
28.5
2007-08
WAS
13
33
39.8
28.2
77.1
0.5
3.5
3.9
5.1
2.3
1.8
3.8
0.1
19.4
2008-09
WAS
2
31
26.1
28.6
75.0
0.5
4.0
4.5
10.0
2.0
0.0
0.5
0.5
13.0
2009-10
WAS
32
37
41.1
34.8
73.9
0.5
3.6
4.2
7.2
3.0
1.3
3.7
0.3
22.6
2010-11*
All Teams
70
26
36.6
29.7
78.4
0.3
2.4
2.7
3.9
2.7
1.1
2.5
0.3
10.8
2010-11*
ENT
49
22
34.4
27.5
74.4
0.3
2.1
2.4
3.2
2.3
0.9
2.2
0.2
8.0
2010-11*
WAS
21
35
39.4
32.4
83.6
0.3
3.1
3.3
5.6
3.6
1.4
3.4
0.6
17.3
2011-12
SAME
17
12
40.6
33.3
70.0
0.1
0.9
1.1
1.1
2.1
0.7
0.7
0.1
4.2
Total
553
35
42.1
35.1
80.3
0.8
3.1
3.9
5.3
3.0
1.6
3.2
0.2
20.6