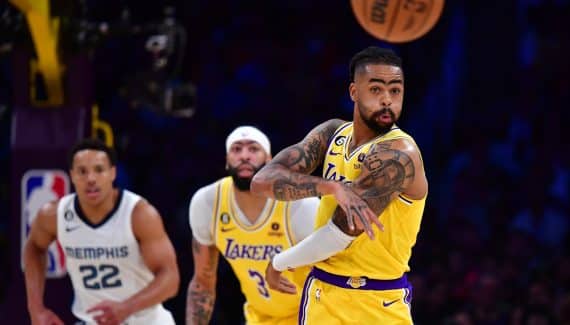 While the Lakers were trailing by 7 points with five minutes remaining, D'Angelo Russell, yet discreet until then, came out of its box at the best time. The leader then scored two consecutive 3-point baskets to bring his team to a length of the Grizzlies (97-96). Coming out of time-out, he even added a third consecutive long shot, allowing Los Angeles to recover the momentum and to completely revive at the end of the match.
"Without D-Lo in the fourth quarter…" LeBron James sighs. "As the game got tight and we couldn't get any good shots, he made two 3-pointers and put us in a position to go into overtime. It was huge. »
A contrasting evening
Yet the evening had started very badly for D'Angelo Russell, with an impact close to nothing in the first half, with only two points scored. Coming back from the locker room, he scored six points quickly before slipping away, and reappearing in the final minutes with that crazy nine-point streak. In the end, he finished with 17 points. He will scoop at the end of the 4th quarter of his 6th foul, which will deprive him of the extension.
But at the end of the night, it's those three consecutive 3-pointers that will stick in people's minds, because at that point the Lakers were at the mercy of the Grizzlies, with home-court advantage in play.
"I think it happened like this, you know, being in the right place at the right time, having the opportunity to do something, enjoying it, it's as simple as that" explained D'Angelo Russell vaguely. "I'm a Lakers fan, the fans have treated me very well and have welcomed me with open arms since I came back here, it's a nice feeling".
[boxplayer dangelo-russell]