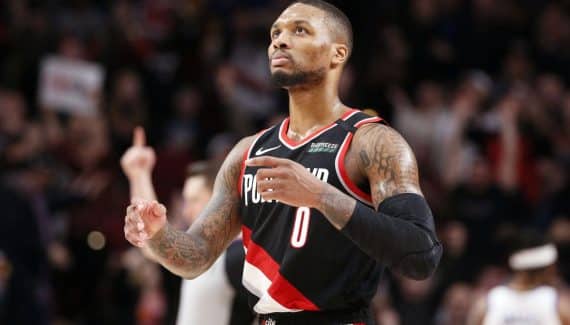 Model of consistency with eight consecutive appearances in the playoffs between 2014 and 2021, the Blazers had a dark year last season. Like their leader, Damian Lillard, who had to agree to play pool to treat his recurring abdominal pain, which had been causing him pain for more than four years…
Limited to 29 appearances for 24 points, 7 assists and 4 rebounds on average, his lowest averages since 2015, he wants to start again this year, with his physical abilities back at 100% again!
"I feel in great shape", explains Damian Lillard in the Dave Pasch Podcast. "I had been dealing with this abdominal injury for four and a half years and towards the end it was obviously much worse than it was at the start, it got much worse over time. Even though I had managed to manage the pain so that I could stay at the highest level possible, it had reached a point where I no longer knew how my body was going to react. I always hoped that the adrenaline and the competition would make me forget the pain but hey, it had become unbearable. If I had known the seriousness of the injury, even three years earlier, I would have done what had to be done to treat it from that moment. I never imagined that I needed an operation for this but we had it eight months ago now, and since then I have been training and spending family time with my children and my wife. I'm enjoying life waiting to be ready to play basketball again. "
Passed to the kingdom of Disney with his small family, Damian Lillard also took advantage of his extended vacation compared to the usual seasons to complete his fifth album, already…
"We have the ingredients to make a great team"
But the Rip City boss also handed over the warm-up blue, always ready to defend the colors of the Blazers despite many insistent rumors that saw him go elsewhere. Damian Lillard persists and signs: he wants to be a Blazer for life!
"Yes, that's my plan. I've heard my share of people tell me to do this or that… But I'm not the type to let myself be influenced. I will always do what is in my interest and what I feel in my heart. I'm a naturally loyal guy and I certainly have loyalty to my franchise but most of all I feel loyal to myself, to my identity, to what I believe in. I really think we can do it in Portland, I think that moment will come. We will have this opportunity. "
Not far from the Holy Grail in 2019 with a promotion to the Western Conference finals, unfortunately quickly folded with a sweep from the future champions Warriors, Damian Lillard and his Blazers seem reinvigorated after an offseason which saw them strengthen considerably with the arrival of soldiers such as Gary Payton II and Jerami Grant, or the Draft of Shaedon Sharpe, a very promising talent.
"We have a lot of guys who came in early and have already resumed training. We have already spent a lot of time together and I have seen progress from many players. I was able to get to know some who are also arriving, to assess what we will be able to get out of them and what they will be able to bring to the team. When you get to know your teammates, you learn a lot of things you need to know. If you want to have a team that works well, the personalities of the guys and who they are inside, it matters a lot. I could see that with the new ones, Gary Payton and Jerami Grant. We also have Ant (Anfernee Simons) who looks ready to explode. We have Josh Hart, we have our draft pick, Shaedon Sharpe who is an international level talent, Nas (Nassir Little) who is coming back from injury and who is in great shape. There is also Trendon Watford, an undrafted guy who managed to get a guaranteed contract and who is the guy who can do a bit of everything, the binder of the team. We have Nurk too! We have a lot of players and I think we have the ingredients to make a great team. We're going to need a little bit of luck to get there, but we're going to be a team that won't be easy to play. We're going to have to work hard and get our due, but I like our team as it stands. "
Damian Lillard
Percentage
Bounces
Season
Crew
GM
Minimum
Shots
3 points
LF
Off
Def
Early
pd
party
Int
bp
CT
Points
2012-13
ORP
82
39
42.9
36.8
84.4
0.5
2.6
3.1
6.5
2.1
0.9
3.0
0.2
19.1
2013-14
ORP
82
36
42.4
39.4
87.1
0.4
3.1
3.5
5.6
2.4
0.8
2.4
0.3
20.7
2014-15
ORP
82
36
43.4
34.3
86.4
0.6
4.0
4.6
6.2
2.0
1.2
2.7
0.3
21.0
2015-16
ORP
75
36
41.9
37.5
89.2
0.6
3.4
4.0
6.8
2.2
0.9
3.2
0.4
25.1
2016-17
ORP
75
36
44.4
37.0
89.5
0.6
4.3
4.9
5.9
2.0
0.9
2.6
0.3
27.0
2017-18
ORP
73
37
43.9
36.1
91.6
0.9
3.6
4.5
6.6
1.6
1.1
2.8
0.4
26.9
2018-19
ORP
80
36
44.4
36.9
91.2
0.9
3.8
4.6
6.9
1.9
1.1
2.7
0.4
25.8
2019-20
ORP
66
38
46.3
40.1
88.8
0.5
3.8
4.3
8.0
1.7
1.1
2.9
0.3
30.0
2020-21
ORP
67
36
45.1
39.1
92.8
0.5
3.8
4.2
7.5
1.5
0.9
3.0
0.3
28.8
2021-22
ORP
29
36
40.2
32.4
87.8
0.5
3.7
4.1
7.3
1.3
0.6
2.9
0.4
24.0
Total
711
36
43.7
37.3
89.3
0.6
3.6
4.2
6.7
1.9
1.0
2.8
0.3
24.6