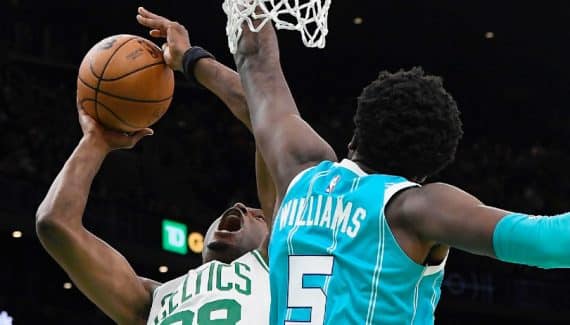 There was plenty to watch for this preseason game between the Celtics and the Hornets. But what we especially saw was the difference in level and intensity between the two groups.
Because after a balanced first quarter, Boston took off in the second act to never look back. Carried by their address at 3-pts (22/47), Joe Mazzulla's men quickly killed the match, with Jaylen Brown and Jayson Tatum who did not leave their part to the dog. The first (24 points at 8/11 in 24 minutes, 4 ball losses) was still more effective than the second (16 points at 4/11 in 22 minutes, 5 ball losses).
Alongside in particular Sam Hauser's 14 points 4/5 away, we saw the first solid steps of Malcolm Brogdon (11 points, 9 assists and 5 rebounds), the energy of the "two-way" Mfiondu Kabengele or of Noah Vonleh, in search of a guaranteed lease in a club which still has a few places to distribute in its workforce.
On the Charlotte side, which had to do without Gordon Hayward, this first of the new era Steve Clifford gave a glimpse of some encouraging signs, in particular on certain defensive sequences.
On the other hand, the very fast shots of LaMelo Ball (14 points at 5/19) and Terry Rozier (11 points at 4/13) probably did not please the coach, who is a fan of an offensive game based on the 'efficiency. To see how he manages to use the energy of his "backcourt" to get the best out of it… and put the other players in a good mood.
Boston

/

134
Shots
Bounces
Players
Minimum
Shots
3 points
LF
O
D
T
pd
party
Int
bp
CT
+/-
Points
Rating
J. Tatum
22
4/11
2/8
6/6
6
6
3
1
2
5
+14
16
15
A.Horford
18
3/3
2/2
0/0
1
4
5
4
3
1
+7
8
18
Mr. Smart
23
2/5
1/3
2/2
1
1
2
3
4
1
4
+11
7
6
D.White
18
3/6
1/4
0/0
4
4
4
3
2
+6
7
10
J.Brown
24
8/11
3/5
5/7
1
4
5
1
4
4
+9
24
21
G.Williams
14
3/4
2/3
0/0
2
2
4
4
3
1
1
+21
8
15
J.Layman
9
1/3
0/1
1/1
1
1
+9
3
2
N.Vonleh
13
3/3
1/1
0/0
9
9
5
2
+14
7
14
J.Jackson
9
2/5
1/3
0/0
1
1
2
1
1
+9
5
5
L.Samanic
5
1/1
0/0
0/0
4
4
2
+4
2
6
S. Hauser
19
5/6
4/5
0/0
3
3
2
1
1
+26
14
18
Mr Kabengele
11
4/4
1/1
1/1
2
1
3
1
1
+17
10
12
Mr. Brogdon
24
4/9
2/6
1/2
5
5
9
3
+18
11
16
P. Pritchard
18
2/6
1/3
0/0
1
1
5
1
+24
5
7
B.Thomas
6
1/4
1/2
0/0
1
1
1
1
+8
3
3
J. Davison
6
2/3
0/0
0/1
1
1
4
1
+8
4
7
48/84
22/47
16/20
8
48
56
41
29
4
23
3
134
175
Charlotte

/

93
Shots
Bounces
Players
Minimum
Shots
3 points
LF
O
D
T
pd
party
Int
bp
CT
+/-
Points
Rating
P. J. Washington
24
1/7
0/4
2/2
2
2
1
2
3
-12
4
4
Mr. Plumlee
15
2/3
0/0
4/8
2
4
6
1
1
1
-7
8
9
The.Ball
25
5/19
2/8
2/2
2
5
7
4
2
1
3
-9
14
9
T. Rozier
25
4/13
1/6
2/2
1
1
3
2
1
-13
11
7
K. Oubre Jr.
21
6/11
2/6
3/3
2
2
4
3
1
-6
17
16
J. McDaniels
19
5/7
0/0
0/0
1
1
1
2
1
1
-24
10
10
K.Jones
9
2/2
0/0
1/3
2
3
5
1
1
-9
5
9
J.Thor
15
0/1
0/0
2/2
2
1
-20
2
I.Whaley
4
0/0
0/0
0/0
1
1
+1
1
A.Duruji
4
0/0
0/0
0/0
1
+1
-1
N. Richards
18
3/5
0/0
0/2
3
4
7
1
1
1
1
-15
6
10
Mr. Williams
11
1/3
0/0
0/0
1
1
2
-20
2
2
D.Smith Jr.
11
4/9
0/0
0/0
1
1
2
1
1
-20
8
6
J.Bouknight
20
1/9
0/4
0/0
2
2
2
2
1
2
-23
2
-3
J. Crutcher
4
0/2
0/0
0/0
1
1
1
+1
-2
Li.Ball
4
0/3
0/3
0/0
1
1
-12
-2
J.Sims
4
0/3
0/1
0/0
1
2
3
-12
B. McGowens
8
1/4
0/1
2/4
1
-6
4
35/101
5/33
18/28
16
27
43
13
18
13
13
2
93
75