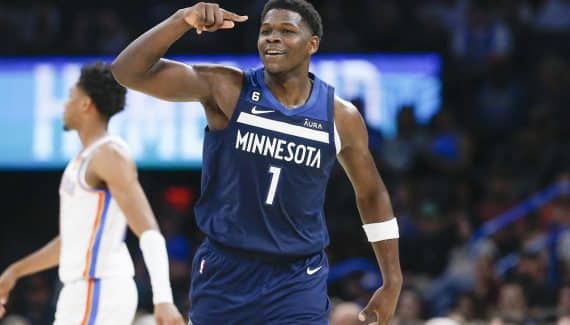 He is getting stronger. Anthony Edwards has just played two games in a row at 30 points, after opening the season at only 11 points. Above all, his second meeting against the Thunder is a gem of efficiency, with a remarkable 13/19 in shooting.
"The first match I played, I said to myself that I could not play again at this level"he comments for the Star Tribune. "I played my game Friday against Utah, instead of being a 3&D. So it does good. »
The back needs the ball to express himself, therefore depriving him of having it in his hands is logically reducing his impact. "It's my fault, I have to give him the ball more"assumed Chris Finch thinking of the game lost against Utah.
The problem was quickly resolved in Oklahoma City. From the start of the game, Edwards had possessions and he was sharp. His penetrations hurt the Thunder very badly and at the end of the first quarter, he had already scored 12 points at 6/7 to shoot. Then at the break, his stat sheet showed 18 points and 7 rebounds.
"I like to play with the field wide open"he explains, thus confirming that the balance with Karl-Anthony Towns and Rudy Gobert is not yet perfect. "When I take the rebound, I like to accelerate, go to the circle, get fouls. The more we play "small ball", the better it is for me. »
The precious screens of Karl-Anthony Towns and Rudy Gobert
However, having two interiors of this level also sometimes makes life much easier for him. Luguentz Dort and the Thunder, unable to stop him, can attest to that.
"He has Gobert and Towns"responds the back of the Thunder, for The Oklahomanwhen asked why Edwards is so hard to contain. "When you have big guys like that to do screens, it's hard to come back afterwards. And when a player like that is launched, you never know how many points he can register. »
Anthony Edwards stopped at 30 units, after notably making the difference in the last quarter. His coach lined him up with four substitutes: Taurean Prince, Jordan McLaughlin, Jaylen Nowell and Naz Reid. This group, especially with a Reid who scored 14 points in the last act, will increase the gap from eight to twenty points in five minutes.
"With this formation, we share the ball. We don't care who shoots, we have fun," explains the back for PioneerPress. "I like to see my teammates shine and I don't mind moving the ball around when we can have open shots. »
Anthony Edwards
Percentage
Bounces
Season
Crew
GM
Minimum
Shots
3 points
LF
Off
Def
Early
pd
party
Int
bp
CT
Points
2020-21
MIN
72
32
41.7
32.9
77.6
0.8
3.9
4.7
2.9
1.8
1.1
2.2
0.5
19.3
2021-22
MIN
72
34
44.1
35.7
78.6
0.9
3.9
4.8
3.8
2.3
1.5
2.6
0.6
21.3
2022-23
MIN
2
37
40.0
25.0
55.6
1.0
5.5
6.5
4.5
2.5
0.0
3.5
0.5
20.5
Total
146
33
42.9
34.3
77.7
0.8
3.9
4.7
3.4
2.0
1.3
2.5
0.6
20.3