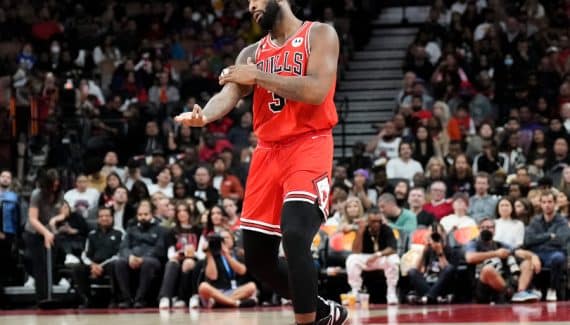 Despite his "old-fashioned" pivot profile, this is not the first time that Andre Drummond has tried his hand at 3-point shooting. However, it has been two years since he last managed a single one in the regular season (0/11). It must be said that his percentage of success does not lean in his favor either (13.2%, at 15/104).
But the pivot clings, and now he created the surprise in preseason against Toronto by aligning a 3/3 from afar. Is the hard work finally about to pay off?
"Every summer, I got into it. There are videos of me taking these shots. I never thought I would take them in a game. But it's mostly about working in the shadows when no one is watching and being ready for those moments when they come.", did he declare.
Respecting the rhythm of the attack
Preseason is the best time to experiment with options like this. Andre Drummond also has a good teammate to work with in Nikola Vucevic. And if position 5 manages to confirm in the first games of the regular season, it's a new weapon that he could consider adding to his game.
"It's something I talked to the staff about in the summer when I signed here. That I worked, that I want to be able to stay on the field and add different facets to my game to help this team win. And if I'm able to put that 3-pointer in the corner when I'm wide open, that adds one more asset to our team." he added in particular.
No question of taking yourself for another. During the game of the night against Milwaukee, he stopped at his first attempt, failed, sticking to the "fundamentals" with 16 points and 9 rebounds. For the time being, it would simply be a question of sanctioning the deviations of the opposing defense on open shots, without forcing.
"At the end of the day, I'm here to execute the attack properly. But if that shot comes up, I'm more than likely going to take it. It's not about taking a contested 3-point shot or a wild attempt. I will follow the rhythm of the attack, and if I am unmarked, I will shoot".
Andre Drummond
Percentage
Bounces
Season
Crew
GM
Minimum
Shots
3 points
LF
Off
Def
Early
pd
party
Int
bp
CT
Points
2012-13
TED
60
21
60.8
50.0
37.1
2.8
4.8
7.6
0.5
2.4
1.0
1.0
1.6
7.9
2013-14
TED
81
32
62.3
0.0
41.8
5.4
7.8
13.2
0.4
3.4
1.3
1.4
1.6
13.5
2014-15
TED
82
31
51.4
0.0
38.9
5.3
8.1
13.5
0.7
3.5
0.9
1.5
1.9
13.8
2015-16
TED
81
33
52.1
33.3
35.5
4.9
9.9
14.8
0.8
3.0
1.5
1.9
1.4
16.2
2016-17
TED
81
30
53.0
28.6
38.6
4.3
9.5
13.8
1.1
2.9
1.5
1.9
1.1
13.6
2017-18
TED
78
34
52.9
0.0
60.5
5.1
10.9
16.0
3.0
3.2
1.5
2.6
1.6
15.0
2018-19
TED
79
34
53.3
13.2
59.0
5.4
10.2
15.6
1.4
3.4
1.7
2.2
1.8
17.3
2019-20 *
All Teams
57
33
53.3
14.3
57.5
4.4
10.8
15.2
2.7
3.5
1.9
3.6
1.6
17.7
2019-20 *
TED
49
34
53.0
4.8
58.4
4.6
11.2
15.8
2.8
3.6
2.0
3.6
1.7
17.8
2019-20 *
KEY
8
28
55.2
28.6
51.3
3.0
8.1
11.1
1.8
3.1
1.5
3.6
1.4
17.5
2020-21 *
All Teams
46
27
49.3
0.0
60.0
3.6
8.4
12.0
2.0
3.2
1.4
2.7
1.1
14.9
2020-21 *
KEY
25
29
47.4
0.0
59.7
4.0
9.4
13.5
2.6
2.8
1.6
3.2
1.2
17.5
2020-21 *
ALL
21
25
53.1
0.0
60.5
3.1
7.1
10.2
1.4
3.8
1.1
2.1
1.0
11.9
2021-22 *
All Teams
73
20
57.0
0.0
52.4
3.1
6.2
9.3
1.8
2.6
1.1
1.6
0.9
8.0
2021-22 *
PHL
49
18
53.8
0.0
51.2
2.8
6.1
8.8
2.0
2.5
1.1
1.6
0.9
6.1
2021-22 *
BRK
24
22
61.0
0.0
53.7
3.9
6.4
10.3
1.4
3.0
0.9
1.5
1.0
11.8
Total
718
30
54.0
13.2
47.3
4.5
8.7
13.3
1.4
3.1
1.4
2.0
1.5
13.8