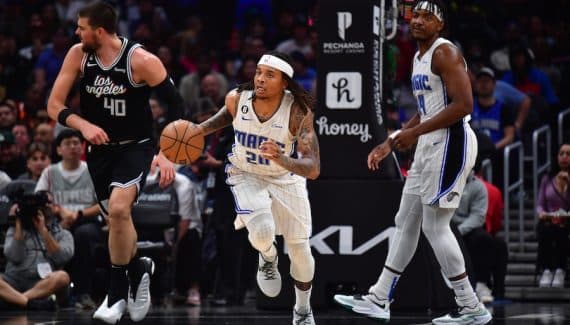 When a journalist asks him to note its performance on a scale of 1 to 10, Markelle Fultz assigns itself a solid " 8 ". With the exception of a few fouls committed or missed defensive rotations as he says, the Magic point guard has signed a performance of choice on the Clippers floor.
Author of 25 points two days earlier on the floor of the Suns, the leader of the Magic was even stronger in Los Angeles. Unopposed 3-point shooting, spin move and finishing ahead of Marcus Morris in transition, lots of good balls distributed to his shooters in the fast game… Markelle Fultz was brilliant.
" It starts in defense, when the team is united defensively and makes the stops, it's easy for us to run behind. The guys did a great job running with me », salute the leader after the gamealongside the other hero of the evening, Wendell Carter Jr.
Very comfortable in this fast game, the Magic leader also shone on a placed attack, like this marvel of pass hyper lobed towards his inside precisely, which surprised Ivica Zubac, less than two minutes from the END. A "money time" during which the former 76ers player was dazzling with an ease of access to the circle and a much more fluid mid-range shooting mechanics than in the past.
"A huge potential, a big margin of progress"
" What you see in me is a guy who takes nothing for granted. I feel like I have enormous potential, a lot of room for improvement. I try to progress a little more every day. It's what you see on the court, it's someone who wants to improve and be competitive to help his team win ", Displays the 24-year-old player, who has chained health concerns in recent years.
He thus offered himself a new career record with 28 points (10/17 on shots including 1/1 from afar), including 12 in the fourth quarter alone (in the last four minutes of the match itself), 6 rebounds, 4 assists and 4 steals. His performance confirms his rise to power, month after month, at the heart of his best exercise of his career. In March, he averaged 18 points (55% on shots), 6 assists and 5 rebounds.
" I'm so proud of this young man, if only for everything he's been through. He never comes to the room without a smile. He has such a level of happiness in him to play basketball. This is what stands out "says his coach Jamahl Mosley. What also emerges is that the Magic, in the wake of its best passer, should soon exceed the symbolic milestone of 30 wins in the season, a first since 2020.
Markelle Fultz thus sees this well-negotiated end to the meeting against the Clippers as a sign of progress: " It's huge, especially since we have already experienced similar moments in the past, where we had not managed to conclude. It shows what we are capable of when we stay focused throughout a game. »
Markelle Fultz
Percentage
Bounces
Season
Crew
GM
Minimum
Shots
3 points
LF
Off
Def
Early
pd
party
Int
bp
CT
Points
2017-18
PHL
14
18
40.5
0.0
47.6
0.9
2.3
3.1
3.8
1.6
0.8
1.2
0.3
7.1
2018-19
PHL
19
23
41.9
28.6
56.8
1.4
2.3
3.7
3.1
2.7
0.9
1.3
0.3
8.2
2019-20
ENT
72
28
46.5
26.7
73.0
0.6
2.7
3.3
5.1
2.0
1.3
2.0
0.2
12.1
2020-21
ENT
8
27
39.4
25.0
89.5
0.6
2.5
3.1
5.4
2.3
1.0
2.3
0.3
12.9
2021-22
ENT
18
20
47.4
23.5
80.6
0.2
2.5
2.7
5.5
1.2
1.1
2.2
0.3
10.8
2022-23
ENT
49
30
50.9
30.3
80.3
1.3
2.8
4.1
5.6
2.2
1.5
2.4
0.4
13.8
Total
180
26
46.8
27.3
73.8
0.8
2.6
3.5
5.0
2.0
1.2
2.0
0.3
11.7