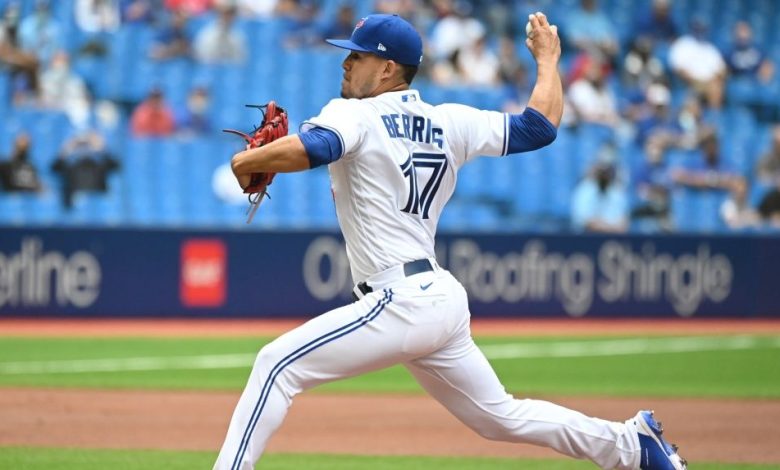 For the next season, the Toronto Blue Jays will have one of the big rotations of the American. With Jose Berrios, Kevin Gausman, Hyun-Jin Ryu and Alek Manoah in the top-4, the club is in full swing.
As for the fifth position, we think either of Ross Stripling, Nate Pearson, a surprise at camp or a outsider. And in my opinion, it will have to go through a player (ideally left-handed) outside the organization, in order to create depth internally.
After all, I foresee a lot of pitching injuries in general in 2022 in MLB…and you have to make sure you have a plan B if things go wrong.
Let it be said: it's going to be fine with the Blue Jays. The club has a rotation which I think will get the job done.
On the other hand, there is a world – which leaders must anticipate – where things are going badly and the rotation is not as good as expected.
A world where Kevin Gausman is not the pitcher of 2021, his big career year.
A world where Hyun-Jin Ryu doesn't perform like the pitcher he is at his peak, like in 2020.
A world where sophomore bad luck hits Alek Manoah.
As I tell you, this is a scenario that should not happen (especially not all three at the same time), but still: it is a possibility.
That said, I don't see a scenario where Jose Berrios doesn't deliver – other than a big injury, as all players are at risk. He is, in my opinion, the biggest certainty among pitchers in Toronto, a club ready to spend.
Berrios is a guy who is very often healthy. He's a guy who always throws a lot. He's a guy who always throws well. He's a guy who's proven to be able to pitch in Toronto in 2021.
He's a guy who received a vote of confidence (with his big contract) so important that he let his plans to reach full autonomy in a year.
In the best of all possible worlds, he will be the next Blue Jays pitcher to receive votes for the Cy Young after Hyun-Jin Ryu (2020) and Robbie Ray (winner in 2021). He has that potential and he has never been slowed down in recent years.
The pitcher, who is the Toronto squad I trust the most, is the certainty the Blue Jays need. Anything can happen, of course, but the former Twins inspires me (really) confidence.