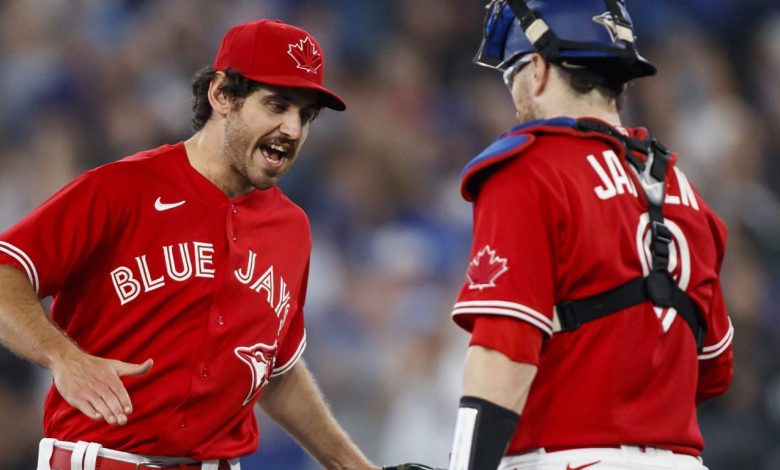 Over the past few seasons, Canadian Jordan Romano has become a dominant reliever and he's excited to head into next season with a revamped defense, especially in the outfield.
Since the end of the last campaign, which ended rather abruptly for John Schneider's squad, the team's leaders have taken steps to improve the defensive aspect of the formation while maintaining a good attack button in place.
Whoever has a mandate to finish games for the Toronto Blue Jays and who will start his fifth season in the Major Leagues, will certainly not complain about being able to rely on a group of players with better defensive skills, allowing pitchers to perform better.
In Daulton Varsho, Kevin Kiermaier and George Springer, he sees a trio of particularly gifted outfielders with above-average skills.
Varsho is a catcher recycled into an outfielder who has become one of the best in his profession. Certainly, the Jays gave big (Lourdes Gurriel Jr. and Gabriel Moreno) to obtain his services, but the game will probably be worth the candle.
In addition, the former Arizona Diamondbacks is the left-handed hitter the Jays needed and he significantly ups the ante on defense.
The arrival of Kevin Kiermaier surprised many, because fans of the team expected to see someone else land to replace Teoscar Hernandez, returned to Seattle as part of a trade with the Mariners.
Kiermaier, 32, has suffered the test of time and injuries have slowed him down in recent years. Known as a defensive magician in Tampa Bay, he says he is healthy and intends to silence his detractors by covering as many field than before in center field. He spent the first 10 years of his career in a Rays uniform. He doesn't represent a plus in attack compared to Gurriel Jr. and Hernandez, but he will be of great service to his new team with his glove and his legs.
The newcomers to the outfield will also allow John Schneider to move George Springer down the right, trying to avoid injury in a less physically demanding position.
Elsewhere on the field, the defensive aspect was also taken into consideration. Whitt Merrifield will be in his first full season in Toronto, having arrived from Kansas City in 2022. Merrifield is very good and should start the season at second base. Vladimir Guerrero Jr. has become a better athlete defensively, while Bo Bichette, Matt Chapman and the receiving duo of Danny Jansen and Alejandro Kirk will also help the team's cause.
Yes, Jordan Romano is right to be happy with the 2023 version of the Blue Jays, because for a pitcher, having better defensive elements allows him to play with confidence and focus on the target.