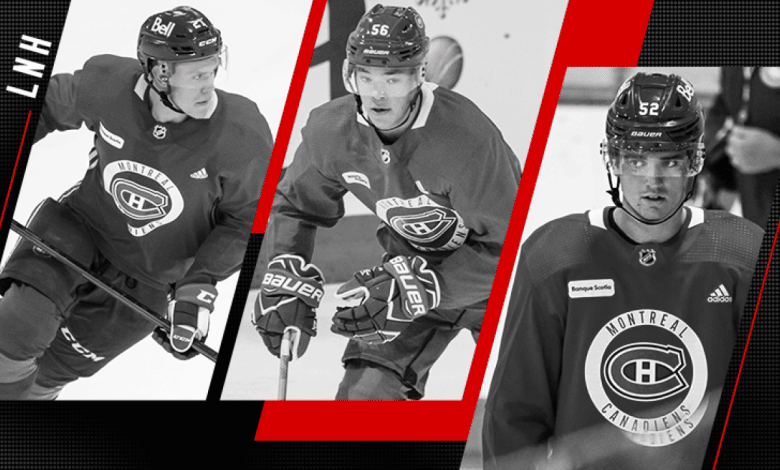 BUFFALO – A smart guy who can predict how the Canadiens' young defensemen will fare this season. The door is open behind veterans Joel Edmundson, David Savard and Michael Matheson.
Even if the Montreal organization is going through a period of reconstruction, the leaders can feel episodes of vertigo by observing the lack of experience of the defensive brigade.
That said, the Justin Barron, Jordan Harris, Kaiden Guhle, Gianni Fairbrother and Arber Xhekaj all intend to reassure them this season.
The staff of the Habs will therefore have to adjust its approach according to the development of this string of defenders. General manager Kent Hughes has already indicated that the plan could include stints with the Laval Rocket to strengthen certain facets of their game. Management is likely to vary quite a bit from one athlete to another.
Not to mention Corey Schueneman and Chris Wideman who want to play as many NHL games as possible.
This fratricidal rivalry began Thursday night with the first game of the rookie tournament in Buffalo.
"It's a great opportunity for them to assert themselves in front of the leaders and against young people of their age. There are no ten-year veterans in the NHL. It's clear that it starts with these games," agreed coach Jean-François Houle, who supervises the 26 players delegated for the event.
"These are assessments, it's important for them to look good, even if it's not the real side," he added.
Of the batch of young defensemen, Barron sounds like the least thrilled about a stint with the Rocket. Nothing to say against the city of Laval, Barron rather has the feeling of having proven himself in the American League.
"My goal is to stay all season in Montreal. The decision is not mine, but I will do everything from the camp to demonstrate it. […] I think I had a good season last year (with the Avalanche school club). Now I am concentrating on staying with the Canadiens," he expressed.
In his case, the possibility exists above all because of his right ankle injury which ended his season on April 5, during his fifth match with CH.
"That's one of the reasons why I'm happy to be here, I'm confident I can play in the NHL and I'm going to build my momentum with this tournament by playing games with the side," noted the right-hander of 20 years old which was not sparkling on its first outing.
"It's going to be a good fight"
With good reason, Barron was satisfied with his game with Montreal before his injury and he says he is ready to fight with his teammates.
Once he recovered, towards the end of July, Barron was able to charge unrestrained on the ice and he wasn't training with just anyone in Halifax.
"I had the good fortune to skate with (Nathan) MacKinnon, (Sidney) Crosby, Drake Batherson and Logan Shaw; many good players," said Barron, who did not attend MacKinnon's Stanley Cup parade.
Harris would not object to a stay in Laval
Even though he's older, at 22, Harris understands that he might have to detour a few games to Laval.
"I don't control everything, I just have to play up to my potential. I wouldn't see it as a setback, but my goal is to carve out a place for myself in Montreal. Now is not the time to slow down," he said.
With ten games behind the tie, he feels better equipped.
"I know I have the level to play with the Canadiens this season"
"I learned a lot, it's very different from the university level. You let the puck do the job. You absolutely have to play to your strengths. The strong guys use their strength, the fastest turn to their speed, the smartest play with cunning…", identified the one who stands out for his agility and intelligence.
Without knowing where their development will take them, there is something intriguing about seeing Barron, Harris, Guhle, Xhekaj, Norlinder and Fairbrother standing together in Buffalo.
"It's cool, it's fun to spend time with them. Nick (Suzuki) was named captain, he is young too. You can see that a core is forming around the young people," Harris rightly pointed out.
Harris did not skimp on the means to be part of it. He's added 10 pounds of muscle to his frame this summer and it's visible to the naked eye.
"I trained hard this summer, I always approached the summer season seriously", commented Harris who is recognized for his seriousness.
Xhekaj, strong and far from being stupid
Last year, no one expected Xhekaj, a guest player, to make it into this group. The guy has shown that he deserves the confidence of the Canadian. This year, the context is different.
"Yeah, it was a surprise and they were able to follow me during the season. They expect me to keep improving, they don't want me to slow down," admitted the six-foot-four, 238-pound southpaw.
"I have skills to fill the net", Arber Xhekaj
Entertaining, Xhekaj arrives with the intention of demonstrating that he is not just a piece of man who can defend his partners.
"I arrived early this summer and I think it was a good thing to show them that I'm not just a big defender with no head. I am able to play and move the puck. I scored several goals (12) last season, it's part of my game," testified the Ontarian.
"He's not an idiot, he's a good player, he moves well and he showed it. He played very physical and that's his style. He made good plays too, his folds improved, "said Houle.
Fortunately for him, the changes in the staff did not weaken his status.
"I'm a little neglected not having been drafted. But new leaders are in place so everyone starts from the same point, "said the 21-year-old defender who used last season to convince Kent Hughes and Jeff Gorton of his strengths.
Fun little note, Xhekaj is far from being the strongest of his family. One of his uncles is six foot eight and his mother is close to six foot. Teasing, he especially said he was very proud to be taller than his father.