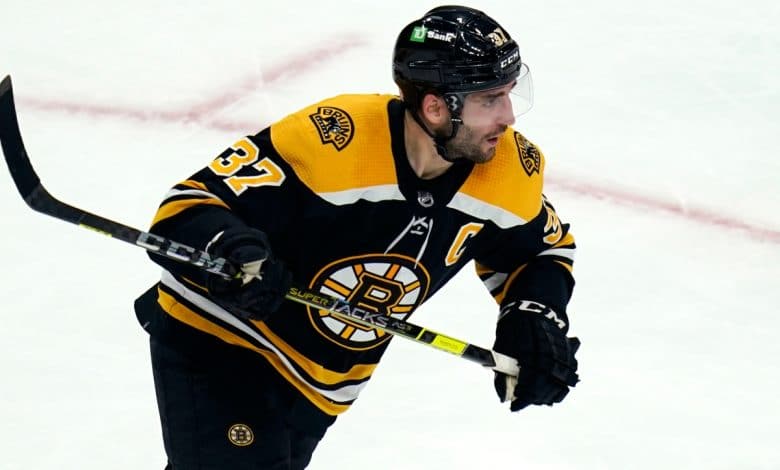 The Boston Bruins will be without captain Patrice Bergeron on Thursday night when they host the Carolina Hurricanes.
Coach Bruce Cassidy said the Quebecer has an upper body injury.
On Tuesday, the Bruins suffered a 3-2 loss at home against the Pittsburgh Penguins.
In 43 games since the start of the campaign, Bergeron has scored 12 goals and 23 assists.
Fox ready to return to play
New York Rangers defenseman Adam Fox has been removed from the injured list, the National Hockey League team announced Wednesday.
Fox had been sidelined since Jan. 26 with an upper body injury.
In order to make room for him in the formation, the Rangers transferred defenseman Jarred Tinordi to their school club of Hartford in the American Hockey League.
Fox has 7 goals and 40 assists in 44 games so far this season.
Matthews in training
Toronto Maple Leafs star forward Auston Matthews returned to practice on Wednesday morning.
Matthews was forced out of Monday's game against the Carolina Hurricanes late in the third period after being accidentally kneed behind the head while falling on the ice.
After practice, Matthews said he was feeling good and should be ready to face the Flames in Calgary on Thursday night.
Ferraro wants a long-term contract
San Jose Sharks defenseman Mario Ferraro would like to agree on the terms of a long-term contract with the team, reports NBC Sports Bay Area.
Ferraro is spending the last year of his first three-year professional contract signed in April 2019 this season.
Ferraro has registered just 2 goals and 9 assists in 42 games since the start of the season, but he averages 23 minutes 29 seconds per game on the ice, the second highest average for the team behind the veteran Brent Burns.
Cholowski back in Kraken organization
The Seattle Kraken claimed Washington Capitals defenseman Dennis Cholowski off waivers.
Cholowski was selected in the expansion draft by the Kraken, but the Capitals claimed him on waivers on Oct. 14.
In seven games with the Capitals, he had one assist. Cholowski has 10 goals and 18 assists in 111 NHL games with the Detroit Red Wings and Capitals.