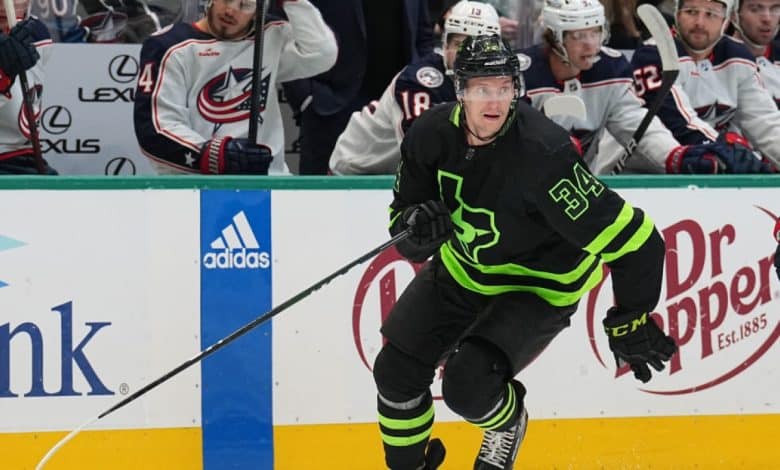 Welcome to The Week in Figures. Each week, I highlight three key stats that have defined training hits and misses over the past seven days.
This week: Kent Hughes pulls a rabbit out of his hat, the defense continues to produce, and Harvey-Pinard leads the rookies.
0
Risks taken by the CH in the Dadonov-Gurianov transaction
Kent Hughes once again pulled a rabbit out of his hat by sending Evgenii Dadonov to the Stars in return for Denis Gurianov. Dadonov never found his groove in Montreal and, at 33 and an unrestricted free agent at the end of the year, was sure to leave this summer. Rather than lose him for nothing, Hughes acquired a claim draft in Denis Gurianov.
Gurianov is a 25-year-old winger who was picked 12th overall in 2015. He had his best season in 2019-20 when he scored 20 goals in 64 games with just 13 minutes of playing time per game. He then added 17 points in 27 games, helping the Stars to the Finals.
The Russian striker stands out for his combination of large size (6'3" and 205 lbs) and speed. In 2019-20, he was 9th in the NHL in chances entering the zone per 20 minutes of play. Even in a difficult season this year, he is still in the top 50 in terms of playing time. His speed should to marry well with the system of play of the CH and Martin St-Louis showed that he is able to help talented players to find their touch offensive.
Gurianov is a restricted free agent at the end of the season. The CH can therefore offer him a qualifying offer or a new contract if he performs well, or simply let him go on the free agent market without any penalty. And given his recent performances, his next deal will certainly not be very expensive.
Considering that Hughes has managed to turn a player who has essentially retired from Shea Weber into a big-framed 25-year-old striker with 20-goal potential and no long-term ties, I believe he did pretty well.
11
Goals by CH defenders since the All-Star game break
The Canadian's defense continues to play a key role in the club's attack in recent games. With 11 goals in eight games since February 11, Montreal is comfortably in first place in this regard, ahead of the Blues who have only seven.
It's quite a turnaround for Montreal, which was by far in last place before the break with only 12 goals by defensemen in the first 51 games. It was five goals behind the Senators, who ranked 31st with 17. A finally healthy Mike Matheson helps a lot, as does the outbreak of Justin Barron since his recall, but it's a collective effort for the CH, while each of the five defensemen who have played the last eight games has hit the mark.
The imminent return of Kaiden Guhle, who showed his offensive potential at the start of the season with opportunistic pushes, should only help the Habs to continue this momentum.
1st
Rank of Rafaël Harvey-Pinard among rookies in points since his recall
Rafaël Harvey-Pinard continues to take advantage of the opportunity offered to him by the numerous injuries of the CH. Under the tutelage of a coach who couldn't understand his situation better in Martin St-Louis, RHP completes a very successful first line. Since reuniting, they've shared the ice for eight goals and only two goals against.
On an individual level, Harvey-Pinard has been leading the rookie charge since his first game Jan. 17 in several important categories.
Not only is he first in production with seven goals and 11 points, but he also leads in terms of process, such as expected goals and shots from the bottom of the slot, two key indicators of future success.
With his performances, it will be very interesting to see what kind of contract he will earn this summer, when he is a restricted free agent with the right to arbitration.