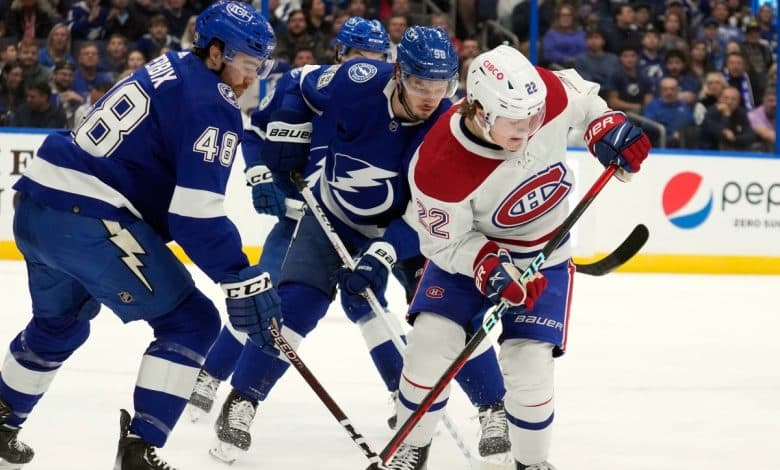 TAMPA, Fla. – The Christmas break did not help the Canadiens players regain their offensive touch.
Brayden Point scored two goals, Andrei Vasilevskiy made 25 saves and the Tampa Bay Lightning defeated Montreal 4-1 on Wednesday at Amalie Arena.
The Canadiens have scored more than two goals just once in their last nine games, going 2-6-1 over that streak.
The power play of the Canadian, who is languishing in last place in the NHL, was 0-for-5.
Kaiden Guhle deprived Vasilevskiy of his first shutout this season by scoring late in the third period. Jake Allen stopped 33 shots in front of the net for the Canadian (15-17-3), who suffered a third loss in a row (0-2-1).
Alex Killorn and Brandon Hagel also scored for the Lightning (21-11-1). Victor Hedman had two assists.
Recalled the day before the Laval Rocket, Justin Barron was in uniform for the Canadiens, who therefore had five rookies on the blue line. Chris Wideman was left out.
The Canadian will play again on Thursday, when he visits the Florida Panthers.
Notes to take for the CH
The meeting started badly for the Canadian. Killorn put the Lightning in the scoring just 1:55 into the game, taking advantage of a nice throw-in from Victor Hedman.
The first period was the Lightning thing. Allen kept the Canadian in the game for long periods of time, notably frustrating Hagel during an outnumbered attack.
Allen, however, was helpless on a Point one-timer on the power play, with 5:51 to go in the faceoff.
The Canadian finally knocked on the door late in the first period, during a power play. Vasilevskiy, however, frustrated Cole Caufield.
Barron showed up early in the second period, going from there with a nice climb in the opposing zone. However, he came up against Vasilevskiy.
The Canadian got another great scoring opportunity when Christian Dvorak made a cross pass to Josh Anderson. Vasilevskiy, however, completed his move in time and made the save.
The Lightning took the lead to 3-0 with 4:00 left in the second period. Even though he was surrounded by four Canadiens players, Point mocked them and beat Allen over the left shoulder.
Caufield tried to reply before the end of the second period. His shot from an outnumbered attack hit the post to Vasilevskiy's left.
The Lightning did not let the Canadian half open the door in the third period, as Hagel widened the gap to 4-0 after 8:31 of play.
Allen was left on his own a bit afterwards and he pulled off another spectacular save against Hagel.
Guhle saved the Canadian's honor by beating Vasilevskiy with 2:39 to go.