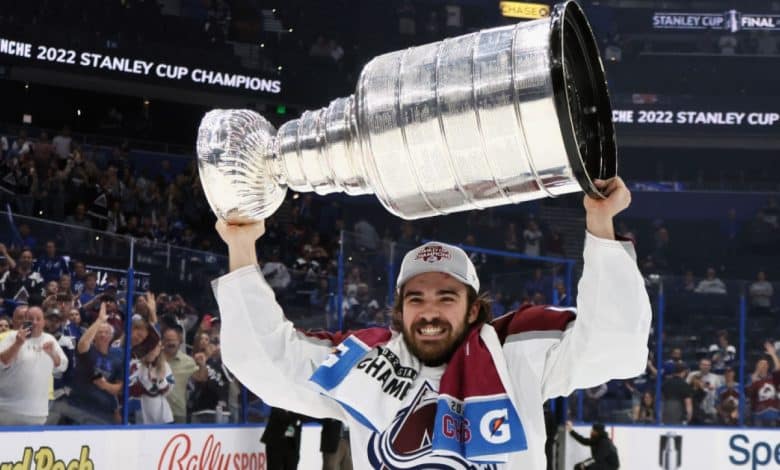 The Montreal Canadiens have signed a four-year, $11.6 million deal with new forward Alex Newhook, the team announced Tuesday.
The pact will earn him an average annual salary of $2.9 million.
Newhook was acquired from the Colorado Avalanche on June 27 for the 31st and 37th picks in the 2023 draft. Those picks later became Mikhail Gulyayev and Ethan Gauthier.
The 22-year-old Canadian was a restricted free agent, having just completed his entry-level contract in the NHL.
In three seasons in the Rockies, the one who was drafted just behind Cole Caufield in 16th place in 2019 has amassed 27 goals and 39 assists for 66 points in 159 games.
Newhook was a member of the 2022 Avalanche that won the Stanley Cup. He was also on the Canadian team that won silver at the 2021 World Junior Championship, along with Kaiden Guhle, Kirby Dach and Justin Barron.
By videoconference, Newhook revealed that after the shock of the transaction, he was happy to join the Montreal Canadiens. "It was an emotional day when you were traded by your first team to Colorado where I have good friends and where I won the Stanley Cup, but at the same time I was thrilled to join a young team with which I could take advantage of new opportunities. "
In Montreal, he finds his former agent in Kent Hughes who has always recognized his talent. "I think he believes in me and it's nice to join a group where there is a person who believes in you. I appreciate it. "
Newhook said he wants to stay healthy and contribute more than he did last year in Colorado. "My goal is to do better than last year. I don't think I've reached my potential. It's not an excuse, but I had some injuries. For all sorts of reasons, I didn't get the year I wanted. I hope that my new start will allow me to do better. "
He believes he has the qualities needed to take the team to another level. "I know I can bring speed to this young team. Even though I'm still a young player, I believe I can bring experience to the training. "
He spoke briefly with coach Martin St-Louis after the trade. He added that the players he's spoken to since the trade have nothing but good things to say about the Habs driver. "He's accomplished so much as a player and he's already had some success as a coach. I can't wait to play for him. I am convinced that I can learn a lot under him. "
Negotiations for his new contract began after the big free agent spell about a week and a half ago. Newhook said he is aware that he always has things to improve. "I still have a lot to learn, but I can evolve in several situations such as disadvantage and power play. I think I can bring speed and be able to produce offensively. "
Newhook will find himself in a different context, when he had less room for error with the Avalanche.
"It's different when you're with a team that's fighting for the conference title," he said. 'Marty' told me that he wants to help me gain confidence and that confidence has to go both ways. It's still special to come to a team where you know you'll be encouraged to play your game, to play to your strengths. "
Newhook is expected to travel to Denver over the next few weeks to pick up his belongings. He expects to arrive in Montreal towards the end of August or even early in September. He said he was looking forward to discovering the city.
"The guys I've spoken to have all told me what a nice group it is and that I should fit in well. I can't wait to meet everyone," he said.