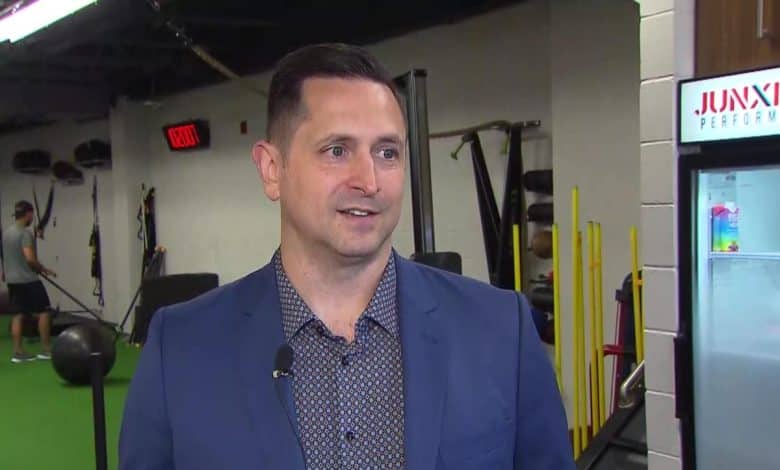 MONTREAL – When we stopped at Quartexx, Nicolas Aubé-Kubel, Samuel Blais and Nicolas Meloche were teasing each other in the gym. On the ice, the same between William Carrier and Samuel Bolduc. If everyone had fun, the players come above all to maximize their summer preparation according to their respective needs.
The established plan therefore varies quite a bit for Carrier, the Stanley Cup champion, for Blais who likes with the Blues, for Aubé-Kubel who wants to establish himself with his fourth team in the NHL, for Bolduc who wishes to showcase all his talent to the Islanders and for Meloche who hopes to establish himself in the Bettman circuit.
The amazing facilities at Quartexx (the former firm of Kent Hughes) can be used to eliminate the aftereffects of an injury, refine aspects of your game, develop your physical strength, be better equipped psychologically and much more.
"For the players, it's certainly pleasant, they have all the services in one location. For us, what is important is that we see them play all season and we are able to establish things that they do well or that they need to improve. In a complex like this, we have the opportunity to really target these things to help them progress in their career," explained Philippe Lecavalier, agent and director of business development.
"We really appreciate having the opportunity to help players reach the next step in their career," added Lecavalier.
Even with the range of resources offered in the establishment in western Montreal, external support is essential.
"It's virtually impossible to have everything in-house. Sometimes, it is to fill a specific need or to be able to follow up throughout the season. It's fun when you can find a specialist in Montreal, but the person must be able to travel or offer the service online," explained Lecavalier, thinking of sports therapists, osteopaths, sports psychologists, nutritionists…
This support plan arises from the assessment of each player with his team, but also from the analyzes carried out by Quartexx agents who collaborate with Mitch Marner, Kristopher Letang, Darnell Nurse, Nazem Kadri, Michael Matheson and co.
"It's different for every player. Some will have a plan on paper, especially for younger children who are not used to this way. We want the player to be able to see it and the parents too. For more experienced players, it's mostly verbal and we set reminders to work on certain things during the summer and work with different specialists," noted the man who played in the NCAA at Clarkson University.
Lecavalier claims the plans aren't a hard sell to athletes.
"It goes by quite easily because it's never new. We very often target things that we have talked about several times. We don't come up with a plan that surprises them. "
The beauty of Quartexx's facilities – including two ice rinks, two gymnasiums, a magnificent locker room, a very welcoming lounge and a high-quality bistro – also remind us that hockey is a big business.
The players know the competition is fierce for every position in the NHL and they understand the importance of their final year of their contract. However, the agent must balance everything.
"It doesn't change that much (the summer plan) because each season is important in the NHL, we know that careers are short. Instead, we want to maximize each season. It would also be putting too much emphasis on that when the players are already putting a lot of pressure on themselves," reacted Lecavalier.
Quebecer Anthony Beauvillier arrives at this stage this season. Traded on January 30 from the Islanders to the Canucks, the 26-year-old skater produced more in Vancouver, but he will still have things to prove to his new bosses.
"When there is a transaction, everyone thinks it is easy: that the player pacts his business and leaves for another city. But there is always a mental adaptation that is difficult for any player. Then you get familiar with your new teammates, your new coach and the systems. Anthony will prepare physically as he does every year and he will do a lot of work mentally, he has been doing it since junior," Lecavalier testified.
The desire to transmit to young people
Economic reality is far from taking over all the space. In addition to the pleasure we told you about at the start, a knowledge sharing aspect has developed at Quartexx.
"What's fun is that we see NHL players who take a few young people under their wings and help them in the gym or on the ice. It's pleasant because it really comes from them. Yes, they want to be successful, but they also want to share their experience," described Lecavalier while Carrier and Marco Scandella are those who stand out the most in this regard.
In recent weeks, Quartexx has lost a key player in his organization in Patrice Bergeron, but his influence will continue.
"Yes, it's a loss for the agency, the NHL and the Bruins. Except that, as an agent, I learned a lot of things from Patrice during his career and I am able to pass it all on to my young clients or those who are already in the NHL," said Lecavalier.
On a large wall of a conference room, a tradition started by the agencies that merged with Quartexx continues: the names of the athletes represented who lift the Stanley Cup are added.
Lecavalier cannot help but, understandably, add with a smile that there is still room to add more. We bet that Kent Hughes, Lecavalier's former partner, wants Quartexx's clients at the Canadian (Michael Matheson, Josh Anderson, Alex Newhook, Rafaël Harvey-Pinard and Logan Mailloux) to obtain this privilege in the medium term.
A brief history of Quartexx
The launch of Quartexx took place in 2015. Lino Saputo, who had built his own family ice rink, Hockey Etcetera, in 2014, had the idea of ​​creating an agency. In 2016, an important step occurred: the merger with MFive Sports which was led by Kent Hughes and Anton Thun. In 2019, Quartexx merged with Darren Ferris' DHG Sports. A women's section, directed by Karell Émard, was added to Quartexx in 2023.