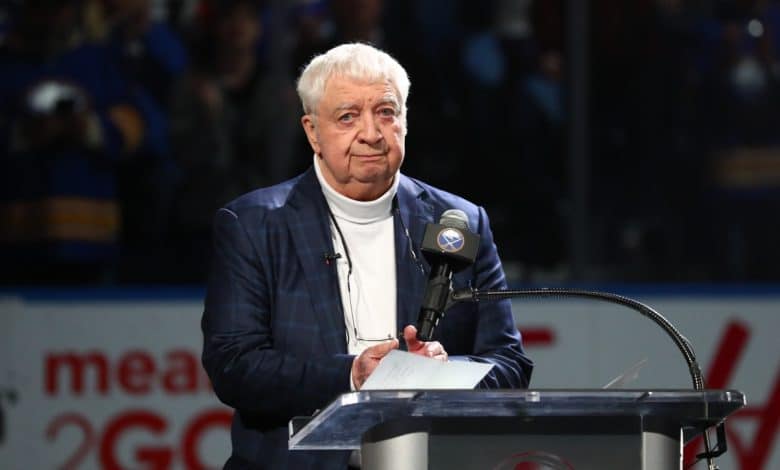 The Buffalo Sabers announced that legendary handler Rick Jeanneret died Thursday at the age of 81.
In their statement, the Sabers said Jeanneret passed away surrounded by his family after two years battling multiple organ failure.
A statement from the family of Rick Jeanneret. 🤍 pic.twitter.com/0vnbXAxytN

— Buffalo Sabers (@BuffaloSabres)
August 18, 2023
Jeanneret became a Sabers handler in the team's second season in 1971-72 and retired at the end of the 2021-22 season after 51 seasons with the team.
He is the longest-serving single-team commentator in the NHL and was inducted into the Hockey Hall of Fame in 2012.
"Rick was a very special man and loved by all who knew him and listened to his magic and his mastery," Sabers owner Terry Pegula said in a statement. I am so happy to have known him. How lucky are we all to have been by his side and to have listened to him. "
"Rick Jeanneret's impact on Sabers history goes far beyond the broadcast booth. He will be greatly missed. I offer my deepest condolences to Sandra, Rick's family, friends and all those he loved. "
"Growing up in Buffalo, Rick Jeanneret wasn't just the voice of the Sabers, he was the voice of our city. He helped fuel my love for hockey and many others as well. Beyond description, Rick was an incredible man loved by all. His humor was second to none and we are lucky to have known him. I am heartbroken by his passing and send my condolences to his wife, Sandra, and all his family and friends. Rest in peace," Sabers general manager Kevyn Adams said.
He established himself as a legend in his profession thanks to his energetic style and the colorful nicknames he gave to certain Sabers players.
Among his most memorable descriptions was his habit of singing "La-La-La-La-LaFontaine" when star player Pat LaFontaine scored a goal or when he repeatedly shouted "May Day" when tough guy Brad May eliminated the Boston Bruins by scoring in overtime in the first round of the 1993 playoffs.
Initially assigned to broadcast Sabers games on the radio, he moved to television during the 1995-1996 season. We could hear him on television as well as on the radio from the 1997-1998 season.
Originally from St. Catharines, Ontario, Jeanneret began his brilliant career as a commentator in 1963 at the Junior A level with the Niagara Falls Flyers.
Health problems had forced him to slow down in the last seasons before his retirement. Treatments for throat cancer had notably forced him to miss part of the 2014-2015 season.
Jeanneret is one of 11 members of the Sabers organization to have a banner in the heights of the KeyBank Center.
The others are former players Gilbert Perreault, Rene Robert, Rick Martin, Tim Horton, Danny Gare, Pat LaFontaine, Dominik Hasek and Ryan Miller, as well as former owners Seymour H. Knox III and Northrup R. Knox.