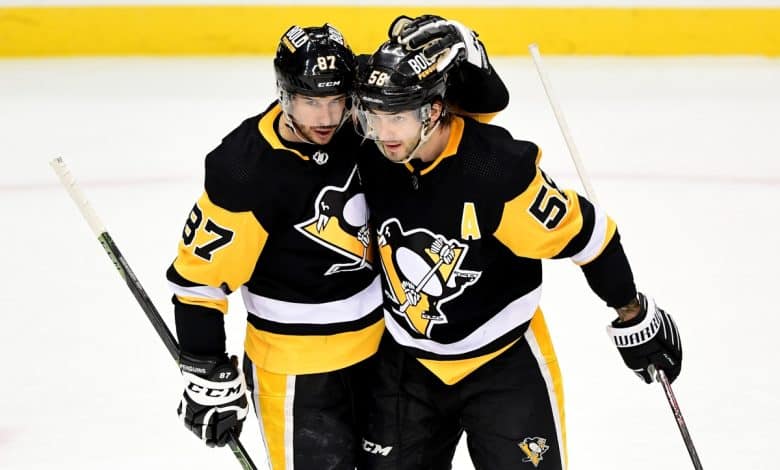 The Pittsburgh Penguins celebrated defenseman Kristopher Letang's 1,000th game before their matchup against the Flyers on Sunday night.
Surrounded by his family, Letang received a warm ovation and heartfelt tribute from his teammates, particularly from Evgeni Malkin and Sidney Crosby.
During the warm-up period, all Penguins players donned number 58 jerseys bearing Letang's name.
The Quebec rear becomes 381e player in history to play 1,000 NHL games, but only 68e to do it with the same team.
Alongside Sidney Crosby and Evgeni Malkin, Letang quickly became part of a Big Three which brought rain and shine to Pittsburgh. Offensive weapon of choice as evidenced by his 686 points in the NHL, the 35-year-old has contributed to three Stanley Cup conquests (2009, 2016 and 2017) during his career. After Crosby and Malkin, it's Letang's turn to celebrate the prestigious set.
"It's hard to believe you're celebrating your 1000e NHL game. You have solidified your place as one of the best defensemen in the history of the Penguins, but also in the history of the NHL, shared Mario Lemieux on Sunday morning. Your strength, your determination and your resilience testify to your success. It was a pleasure to watch you every game, especially during the three Stanley Cup conquests. I wish you many more matches, my friend. Thanks for the memories! "
Over the course of his career, Letang has been a model of perseverance to reach a plateau that, by his own admission, did not even seem attainable. Letang's road to 1,000 games was punctuated by two strokes and neck surgery to treat a herniated disc.
"He took the longer route to 1,000 games," Crosby told the NHL.com earlier this week. He's been through a lot… It's a plateau for everyone, but the way he plays the games and the number of minutes he plays, it's a lot of hockey. "
Letang's playoff record is also impressive, with 23 goals and 90 points in 149 games.