Hockey News
NHL: Dominique Ducharme launches a challenge to the youngsters of the Canadiens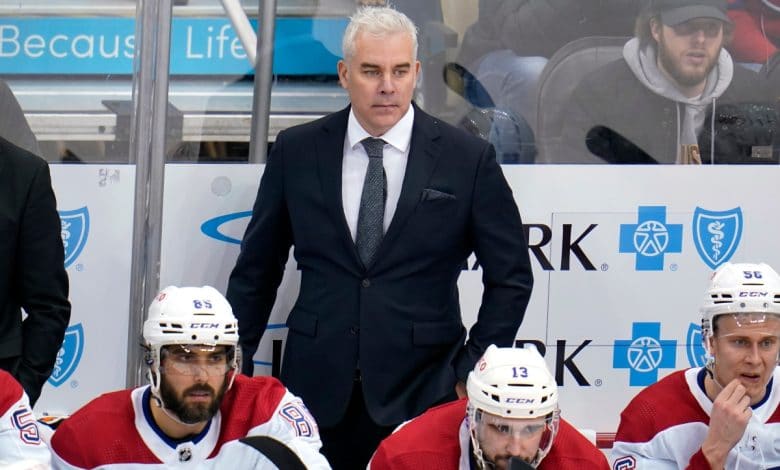 As the Montreal Canadiens gradually regain their veterans, head coach Dominique Ducharme has challenged the young players of the organization to force his hand to make room for them on the team.
"Some of them showed great things (before the break). But it's more complicated than that; there's run-off, contractual issues, and a lot of other things. That being said, yes, some guys will have the opportunity to get a job, or even more playing time. We will also have to determine if it is preferable that some of them play with us, stay in the entourage. of the team or that they return to Laval. But there will be opportunities, that's for sure, "Ducharme confided by videoconference after the training session on Tuesday at the Bell Sports Complex in Brossard.
The head coach notably named striker Laurent Dauphin among those who impressed him in recent weeks – before, of course, he too was diagnosed with COVID-19. Dauphin has scored one goal and two assists in five games so far this season with CH.
"You have to offer a certain number of quality minutes and ensure that a player plays a role that will allow him to continue to develop. We have seen several players pass, but in a case like Laurent's – this is a good example – he has shown relentlessness and perseverance over the past few seasons. He got an opportunity, and he's done well in the games he's played. Now he has to continue in that direction, like other players, to force us to make certain decisions, "said Ducharme.
For his part, Dauphin is well aware that at 26 it could be his last opportunity to carve out a regular position in the Bettman circuit. And he intends to take full advantage of it.
"I was preparing for that (in Laval) and I knew that my games (with the Canadian after my recall) would be important, first mentioned the Quebecer. The next seven game trip is going to be important, so I'm going to keep trying to find my place. You never know if it's your last chance or not, so don't let it pass. "
As to why he was so successful at the start of the campaign with the Rocket in Laval – he was one of the club's top scorers at the time of his recall – the former star player of the Chicoutimi Saguenéens offered a very simple explanation .
"I suffered a big injury when I was 23 or 24, but it doesn't affect me at all. (Rocket coach) Jean-François Houle used me well, which allowed me to build my confidence and unlock this year, "he said.
Lukas Vejdemo is among the other players who will try to earn points with the staff of the Habs in the coming weeks.
The 25-year-old Swede has stood out with a three-game goal so far in 2021-22. Vejdemo, however, had to go through a long process after playing seven games with the Canadiens in 2019-20.
"I have taken steps in my development every season since then. I've matured, I've built my confidence, and I'm trying to use my strengths and attention to detail to establish myself in the NHL. I have learned this over the past few years. You have to constantly improve, and play more consistently. That's what I'm trying to do, "explained the Habs' 87th overall third-round pick in the 2015 NHL Draft.
Vejdemo was also beginning to find his bearings with the Canadian when the break was declared at the turn of the year in the hope of containing the outbreak of coronavirus which struck the team. However, he did against bad luck, good heart.
"Yeah, it's unfortunate, but we have no control over it. It's like that, that's all. But I feel good at the moment, because I was able to rest a little, so I look forward to the resumption of activities, "he summarized.
Thus, failing to see their favorites fight for a place in the playoffs by the end of the regular calendar, the Canadiens fans will be able to maintain their interest in the coming weeks by observing the fight that looms between the young players of the organization trying to carve out a niche with the big club.