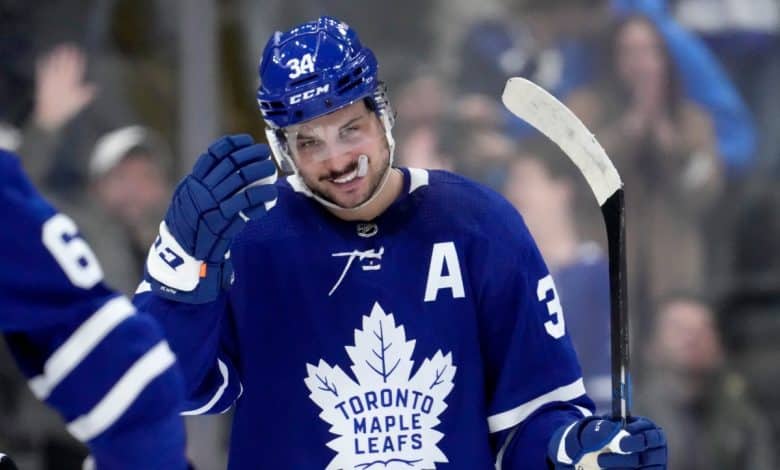 Toronto Maple Leafs star center Auston Matthews reaffirmed his loyalty to the team on Wednesday.
The Leafs No. 34 has announced that he has signed a four-year contract extension that will tie him to the Toronto club until the end of the 2027-2028 calendar.
The agreement, which will begin at the start of the 2024-2025 campaign, will bring him the handsome sum of $13.25 million, for a total of $53 million.
This colossal new pact will make the sniper the highest paid player in the National Hockey League.
I feel fortunate to continue this journey as a Maple Leaf in front of the best fans in hockey! I will do everything I can to help get us to the top of the mountain. GLG! #LeafsForever

—Auston Matthews (@AM34)
August 23, 2023
Matthews, who turns 26 in September, will start the last year of a five-season pact signed in February 2019 in the fall. He will receive $11.64 million in the next campaign.
In a Twitter post that came before the Leafs' announcement, Matthew reiterated that he firmly believes in the potential of the roster that picked him first overall in 2016.
"I consider myself privileged to be able to continue my stay as a Maple Leafs in front of the best fans in all of hockey. I will do everything in my power to help us climb the top of the mountain, "wrote the American, winner of the Maurice-Richard trophy in 2021-2022 with a production of 60 goals in 73 games.
Last season, Matthews was more discreet, holding back a season of 40 goals and 45 assists in 74 games, after his career-high 106 points.
Matthews currently ranks fifth all-time on the Maple Leafs in goals and power-play goals (76), tied for second with nine overtime goals, fourth in game-winning goals (53) and 11th place with 542 points.
The native of Scottsdale, Arizona has scored 299 goals and assisted in 243 more in 481 career games. He added 44 points (22-22) in 50 playoff games.