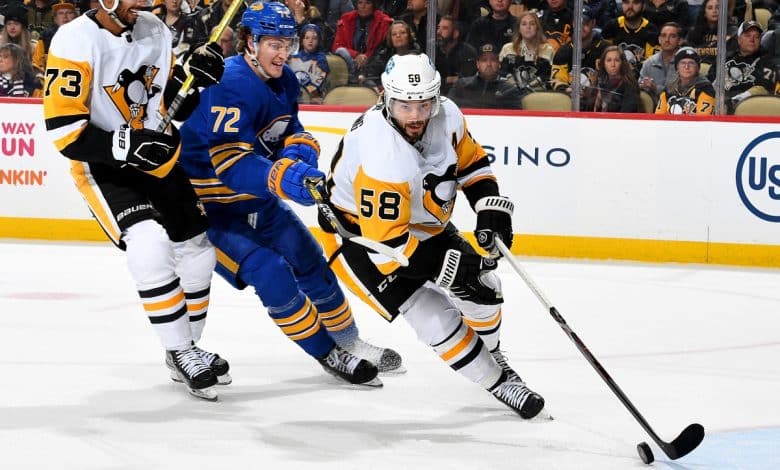 Just 13 days after suffering a stroke, Pittsburgh Penguins defenseman Kristopher Letang was back in action Saturday night in a 3-1 win over the Buffalo Sabers.
Sidney Crosby notched a brace in the fifth straight win, second win in 24 hours, and added an assist. Letang was the most used of his group on the blue line with 22:14 of ice time.
A decision was made just before the game in the case of Letang. He attended Penguins practice on Saturday morning and head coach Mike Sullivan confirmed it was possible he was in uniform.
"The legs were there. Todd (Reirden, the assistant) kept in touch with me to find out how I felt during the game, and I felt good", described the Quebecer after the game.
"When I started to feel better, I increased the intensity in training. We had to wait for blood test results among other things, then I got the green light. I focused on what was coming and not on what happened. "
After his stroke on November 28, the 35-year-old full-back skated just two days later. He then returned to regular training on December 8, 10 days after his stroke.
Letang had also suffered a stroke in 2014, which caused him to miss two months of activity.
This season in 21 games, Letang has 1 goal and 12 points.
"We are so happy to have him back with us. It was heartbreaking to learn what happened to him. Tonight he was a key element in the victory, "said goaltender Casey DeSmith, who was solid in front of 38 shots.
"He is an incredible athlete who is in splendid shape. He prepares so hard so he can play all those minutes. "
Rickard Rakell took advantage of a long comeback to open the scoring in the first period with his 12th goal of the campaign, on the Penguins' power play.
After assisting on the team's first goal, Crosby doubled the lead 2:29 later. Jake Guentzel made a pass against the boards behind Ukko-Pekka Luukkonen's net, then Crosby threaded the needle on the backhand.
Peyton Krebs gave the Sabers hope when he deflected Casey Fitzgerald's shot past the net in the third period.
Crosby, however, scored his second of the game with 1:38 to go. It was the captain's 15th point in his last 10 outings.