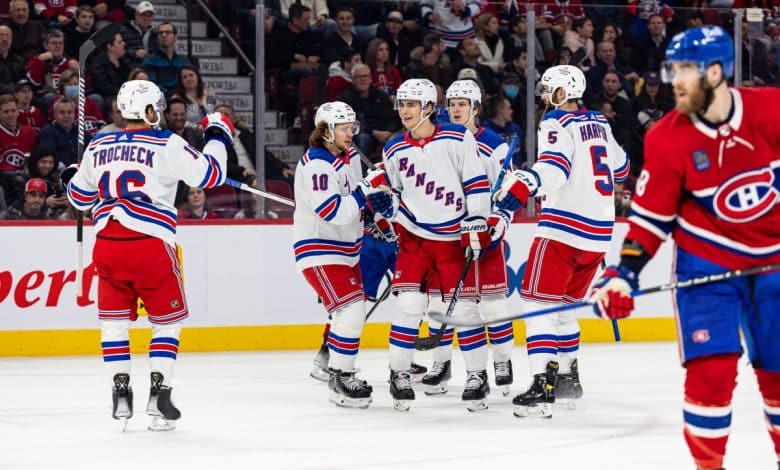 MONTREAL – To extricate themselves from the current trough, the Canadian wanted to limit the opponent's opportunities. This is the small victory of the Montreal clan in a seventh defeat in a row.
Without forcing too much, the powerful New York Rangers managed to win 4 to 1 and here are our observations of this evening back in Montreal after seven games on opposing rinks.
A few decisive minutes towards a 7th defeat in a row
Halfway through the second period, Martin St-Louis' troops weren't doing too badly, being down 1-0. Except that you have to be close to perfection against an opponent of the caliber of the Rangers who exposed their superiority in the space of a few minutes to slip away to victory.
While Jonathan Drouin had just hit the post, Gerard Gallant's men showed that opportunism is essential in the NHL.
Within 59 seconds, Braden Schneider – as Jake Allen was bothered by Vincent Trocheck – and Filip Chytil – with a shot that deflected off Nick Suzuki – settled the game.
This sequence was eloquent, but Jake Evans then ran out of luck on a golden opportunity near Jaroslav Halak. In short, dominant and confident teams find ways to win. While it's quite the opposite for the CH, these days.
"We didn't win the match, but we found ourselves a bit. We had lost each other slightly as a team. It's a good sign for what's to come," said St-Louis of the more encouraging performance.
"Our performance was much better than the last games. More guys were signed up, that's a good thing," Allen observed.
"It's still a defeat, but we played better and it's a step in the right direction," he added.
"Obviously, we don't have a ton of confidence these days. When you concede one or two goals, it's not easy. With a little more luck, the portrait could have been very different," Evans said.
When the power play costs a goal
As if things weren't bad enough for the Canadian's power play, the Rangers took control shorthanded.
Chris Kreider took advantage of Juraj Slafkovsky's inexperience to escape on a breakaway and deceive Allen's vigilance with ease.
The Slovak's bouncing throw to Arber Xhekaj was taken over by Kreider who thus put on his 18e in the countryside.
Finally a first for Armia!
Far too inconsistent this season, Joel Armia was still looking for his first goal.
Without being mean to anyone, it was definitely not a good sign to find that the most threatening trio is that of Evans, Evgenii Dadonov and Armia.
These three players had amassed only three goals this season and, we must say, they deserved to score more than one in this game.
Their reward came in the final minutes of the duel when Armia slipped the puck past Halak. Quite a relief as he played his 27th game on the calendar.
Halak shines again against the Habs
Even by granting Igor Shesterkin, their star goaltender, the Rangers almost relished a shutout. This means that in his last three starts against the Canadiens, Halak has only allowed two tiny goals.
The 37-year-old veteran no doubt enjoyed this undemanding evening in front of his cage. Dadonov, Johnathan Kovacevic and Josh Anderson were probably the other big threats.
Small consolation, but the Canadian will have at least prevented the Rangers from offering themselves a ton of opportunities to score.
"It was ten times better than in the last games. They capitalized on some chances, but we executed our tasks better," Evans said.
Saturday, the Canadian will try to enjoy a first gain in regulation time in front of his supporters since November 9. It has now been 10 games that the Montreal camp has failed this mission.