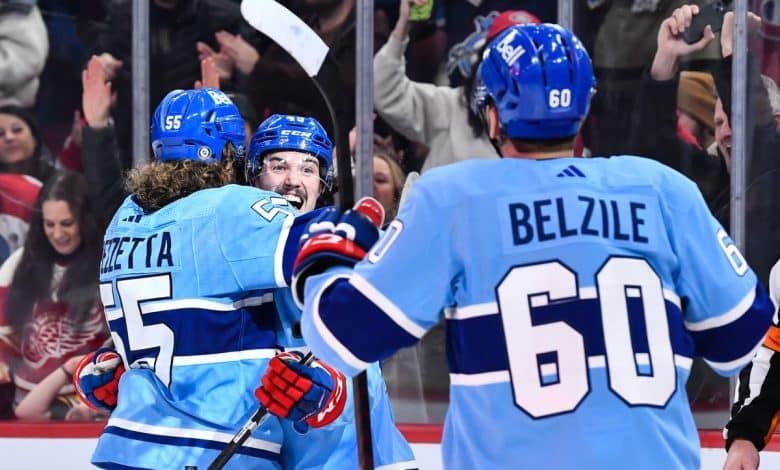 MONTREAL – Since being entrusted with the position of coach of the Canadiens, Martin St-Louis has got into the habit of giving us little pearls of wisdom, observations as only the sharpest minds in their field can offer. .
But Thursday night, anyone could have drawn the same conclusion as the coach. From his position behind the bench, St-Louis saw the same thing as the journalists perched on the catwalk, as the spectators who weren't too busy taking selfies, as those watching the game at the local brasserie. or even who had stayed at home to complete their shoveling, headphones in their ears.
It was so obvious.
"I'm not sure if they had a bad shift," the coach said of the trio of Alex Belzile, Rafaël Harvey-Pinard and Michael Pezzetta, whose sparkling performance in a 4-3 loss suffered in overtime against the Detroit Red Wings almost made you forget the final result.
The sports world is filled with exaggerations, hasty comparisons and helium-filled analogies. But in this case, we had to take St-Louis at its word. The members of his fourth line literally caused a spark every time they stepped over the tape. And by force of circumstance, they have often stepped over it. The three accomplices were each used more than at any other time this season in a meeting where they amassed, between them, a total of seven points.
"When a line gives you that, it's hard not to take it on board, justified St-Louis. It is somewhat explained by the circumstances. We lost [Christian Dvorak] during a moment, [Kirby Dach] fought, we played nine forwards for a good 5-6 minutes. But they played a very good game for us and were a big reason why we were in the game. "
Belzile, Harvey-Pinard and Pezzetta all have different profiles, but common traits that mean that the combination of their efforts can, in a good evening, bring hell to the quintet that we decide to oppose them.
Harvey-Pinard, the "hope" of the group, passed out twice in the National League draft before being selected in the seventh round in his third year of eligibility. His hard work has since earned him a rise that few predicted. He already has four goals in nine games in the big league.
"I'm starting to know him, I had heard a lot about him," said St-Louis. I had seen him a bit last year, I saw him at training camp and there I have another sample of him. I'm beginning to understand the good deals I've been told about "HP". "
The Saguenean, first star of the game against the Red Wings, had obtained a four-game audition a year ago. He feels like a new man on his second recall.
"I think in terms of confidence, it has a big role to play. I am much more comfortable on the ice with my stick, I take my time much more with the puck. I think that makes a huge difference. In one year I gained in maturity, I lived experiences. It helped me improve. "
Belzile is the old backpacker who has always clung to his dream. He played his first NHL game at age 28 and three years later he's still in the picture. As foreign to lace as he is to complacency, the native of Bas-St-Laurent logs and holds his end in search of his first goal in the Bettman circuit. He has four assists in three games this season.
" It will happen. I don't know when, but I don't worry about it. I repeat the same thing, as long as you have chances to score, it's positive. Tonight, it was Raf's turn, another night it could be someone else. […] It's my eleventh year pro, I know the business, I know how it works. Every day you have to start over. There is absolutely nothing taken for granted. "
In terms of seniority, Pezzetta is the most experienced of the three. He's slowly approaching 100 NHL games, but it's only recently that his game has regained the spice that kept him there last season. Reuniting with his old American League buddies seemed to do him the world of good.
"Of course for 'Pezz', it's easier for him to play with guys who play more north-south. It plays more into his strengths. But that's what happens with these three, they're all on the same page. Each has different strengths, but they complement each other well because they have the same mentality on the ice. "
"I was talking about it with Raf, we play the same game as at Laval, we haven't changed anything, notes Belzile. And to have a guy like "Pezz" with us who brings a lot of energy, a physical guy, good at puck recovery, that fits well with our style. We've been playing together for a long time, we know each other well. When you start your game and you're already comfortable, you feel good, you're calm with the puck, it helps during the game. "
Together, the three friends total 171 games in the ECHL and 574 others in the American League. It is in the National League that they will continue to fatten their respective counters if they manage to align performances like the one they offered on Thursday.