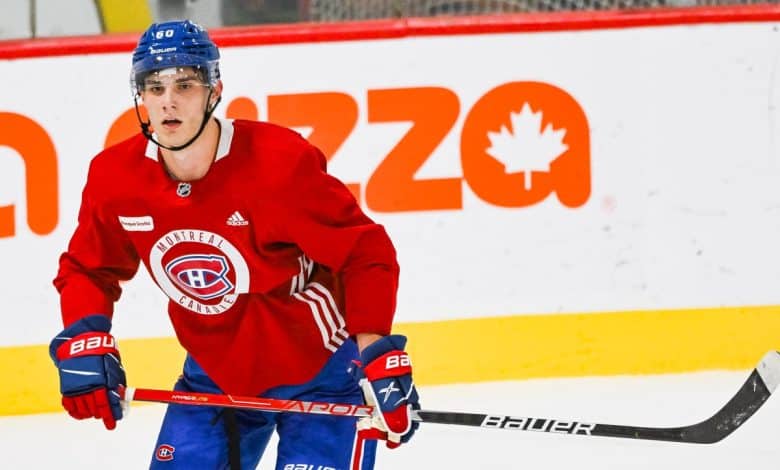 Little by little, it's the turn of Juraj Slafkovsky's future teammates to get to know the beast.
"From the first day I saw him, I could see that he is a rare specimen with this size for an 18-year-old guy," Canadiens forward Josh Anderson marveled on Monday about the 6'4″, 229 lbs first overall pick in the NHL Draft.
"I was able to skate with him this summer and you can see that he uses his size very well to protect the puck. And he's got hands for a big guy. The future is bright for him. I'm excited to see what he'll do at camp and this year," added Anderson.
Cole Caufield, whom the Slovak rookie has already identified as a potential line partner with Nick Suzuki, also said he was surprised by the stature of the new kid.
" Yes! I think everyone was, "summed up the little CH maverick.
"Everyone knows he's huge, but he's a good player," added Caufield. He's smart and he'll be a great addition to the team."
As imposing as he is, Slafkovsky could nevertheless be called upon to wear the Laval Rocket uniform and not play full time in the NHL on his North American debut. His development will take priority over the short-term successes of the team, repeated general manager Kent Hughes.
"That he was selected 1er or 5e, we are concerned with its long-term development and not where it is at present. We will make the best decision so that Juraj becomes the best player he can become."
Caufield heavier
Speaking briefly to reporters at the golf tournament officially launching the club's 2022-23 season, Caufield appeared to them looking more muscular. Asked about it, he said he gained five pounds.
"A longer summer allows you to work more on your body. Last summer, we only had a month and a half. I feel good and I like where I am."
"I can't wait to start the year"