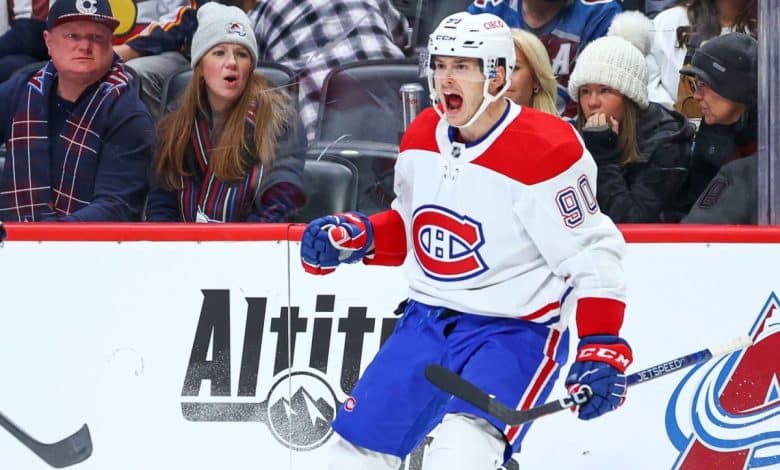 In his second game with the Montreal Canadiens, Anthony Richard scored the first goal of his NHL career in familiar circumstances.
The striker was able to stand out between the two defenders to accept Jake Evans' handover and come in front of Alexandar Georgiev to outsmart him using his speed. The main interested party was obviously happy to have broken the ice, but he was confident of being able to achieve it on this sequence.
"We talked before the game about bringing a lot of speed into the neutral zone. There was a scrappy game and I saw the opener because I knew the defender had cheated. I saw space, Jake (Evans) gave me a nice pass and I used my speed. These are goals that I score in the American League so I was confident of being able to take a good shot, "analyzed Richard to our colleague Marc Denis after the first period.
"I knew that if I was going to have another chance (in the NHL), I was going to be more mature and mentally ready. At the start of your career, you are more stressed, now I feel really good and the game is slowing down," he added.
"We know that he has an acceleration and we saw immediately that he knew how to separate himself from the others. I'm happy for him," said head coach Martin St-Louis.
If the Habs were able to extract a point from Denver in the 2-1 loss, it was thanks to the work of goalkeeper Jake Allen. Once again, the good words were directed at the goaltender who finished the game with 34 saves.
"Despite the altitude, the lack of energy, we were able to get a point which was almost a miracle the way we played. It was thanks to Jake (Allen) who saved us, "supported Richard.
"We had no more gas in the tank. We got tired very quickly and the first thing that leaves at this time is here, mentioned St-Louis, pointing his head. It's a big point on the road. We didn't deserve two points. We would have stolen it if we had gone for the second point. "
"It would have been nice to have that second point with that big outing from Jake Allen," he said.
During overtime, Jonathan Drouin had a good chance to give the Canadiens that second point with a nice breakthrough on the net, but he was stopped by the Avalanche goaltender. Mikko Rantanen followed up on the next push with the winning goal. St-Louis was happy with the game attempted by his striker.
"I'm glad Jonathan saw the window and he went for it. It's a sign of where he is right now. He plays with confidence and it shows on the ice, "he analyzed.