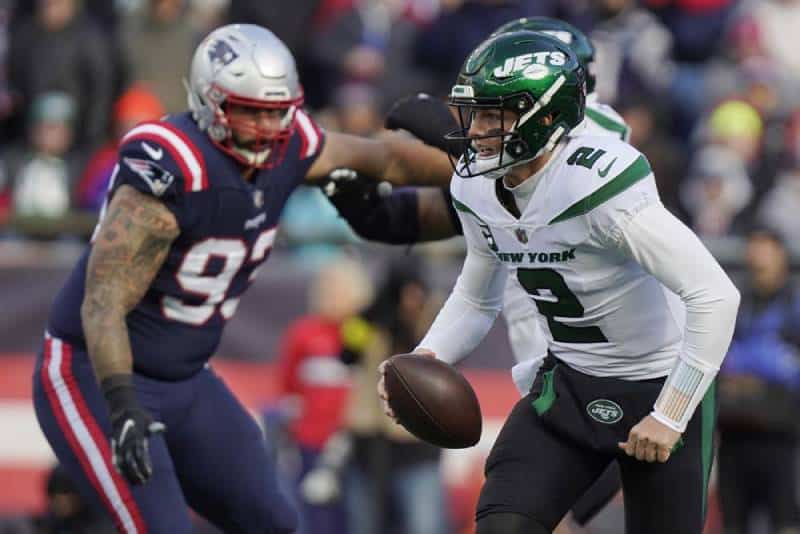 The Jets were atrocious on offense Sunday against the Patriots.
103 yards total.
44 yards in the air.
6 first downs.
10 points.
3 points.
And no need to tell the main interested parties. They know that.
"It was dog shit," Robert Saleh told the press.
Garrett Wilson was even suggesting that some teammates do not give their all.
"We know we're better than that, that's why it hurts," Garrett Wilson told ESPN. " […] It starts in training. It must be better. There are things you see and don't say. You have to start saying things. It's not acceptable. […] I hope this will be a wake-up call for some on the team, some who have to pay attention to detail. […] It starts in training during the week, with the coaches, all that. We have to pay attention to details. We all need to be better prepared. This shit is not normal. Clearly. It is not normal. How many yards have we gained? Yeah, that's not going to do it. Let's face it: we have to be better in the aerial game if we want to achieve our goals.
Zach Wilson in his world
Everyone was aware of the offensive poverty? Or almost.
When asked by a reporter if he thought the green attack let the defense down, Zach Wilson gave a starkly simple answer.
" Nope. No. »
Knowing that the Jets defenders only conceded three points, before the special teams let go of victory on a punt return…
It was his last response. In the previous minutes, the quarterback delivered the standard answers on the need to better execute the game plan, watch video… He conceded having missed a few passes, and even understood the frustration seen in his receivers.
"We are all close. We communicate. There are things I would like to see them do differently and I get frustrated sometimes too. And then there are passes that I missed and they are frustrated too. It goes both ways. Nobody is pointing the finger at anyone. Everyone takes responsibility and everyone tries to improve. »
So everything is fine.
.@Connor_J_Hughes: "Do you feel like you let the defense down at all?"

Zach Wilson: "No." pic.twitter.com/tiJiTSrFPE

— Jets Videos (@snyjets) November 20, 2022